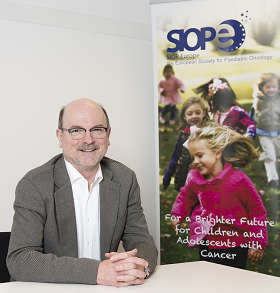 Dear SIOP Europe members, partners, colleagues and friends,
As the summer holidays are about to start, we would like to update you about the past months at SIOPE, which have been very busy and productive with numerous events taking place bringing together our entire community to strive towards our objectives as detailed in the SIOPE Strategic Plan.
Events and projects updates
February was in fact a very busy time with several SIOPE meetings and events taking place such as the SIOPE CRC, ERN PaedCan, PARTNER Project, ACCELERATE Conference, and the International Childhood Cancer Awareness Day, which were all held in Brussels. The SIOPE Clinical Research Council (CRC), held on 1 February 2018, provided a concise overview and update to all the members. This was followed by the first ERN Paedcan General Assembly (1-2 February 2018) to ensure knowledge sharing and dissemination amongst partners, parents, survivors and other key stakeholders. This GA was very successful with more than 100 participants and gained high political visibility through attendance from European Commission officials (DG Santé). The exchanges provided an update of the status of ERN PaedCan and the vision of what it will take for ERNs to perform their mission.
The ERN PaedCan GA was followed by the PARTNER project kick off meeting on 2 February. PARTNER is part of ERN PaedCan and is a 3-year project aiming to create a Paediatric Rare Tumour Europe Registry dedicated to children and adolescents with very rare tumours (VRT). The objective of the PARTNER Project is to link existing national registries and to provide a registry for those countries not already having a registry for VRT in place.
In the same month, the 6th ACCELERATE Paediatric Oncology Conference, held on 8-9 February in Brussels, was again a success and attended by 134 participants. This latest edition of the conference continued to reiterate that innovation does not reach children who most need it and that the cure rate must improve. The regulatory environment was also discussed including the changes needed such as fostering age inclusive research (FAIR Trials). The exchanges echoed the need for inclusion of adolescents in adult Phase-I – III trials of cancer drugs targeting a relevant disease or mechanism of action, without requiring preceding specific paediatric trials. Many voiced during the discussions that the ACCELERATE platform provides great hope in changing the current outlook and working together with all the relevant stakeholders is in fact the only way forward to bring more effective and innovative therapies for children with cancer.

Furthermore, the International Childhood Cancer Awareness Day (ICCD 2018) took place on 20 February at the European Parliament enabling constructive exchanges between academics, survivors and European policy-makers. SIOPE board members together with parents and survivors made a strong call 'Towards a paediatric cancer moonshot initiative in the next EU budget –zero deaths, zero sequelae', emphasising paediatric cancer as a clear priority. The stakeholders recognised the need for sustainable funding to achieve more and better cure for children and adolescents with cancer across Europe.

Besides the events that took place early this year, several projects made significant progress.
Following the launch of the IMI's conect4children, SIOPE with the leadership of Gilles Vassal is preparing to co-lead Work Package 4 (Scientific advice, feasibility and innovation). This consortium shows promise in facilitating the development of new drugs for children in Europe. An important key milestone was the launch of the Survivorship Passport (a tool to provide all European childhood cancer survivors with optimal long-term care) in Italy on 13 February. This means that all 53 AIEOP centres in Italy will be able to use the Survivorship Passport for their patients at the end of treatment. Furthermore, QUARTET is well on its way to start enrolling patients at the end of the year. Up to 1000 patients can be expected to enrol in the next 5-7 years. SIOPE continues to collaborate with all partners and as such released a joint statement ahead of World Cancer Day with the Association of European Cancer Leagues (ECL) and Cancer Research UK (CRUK) emphasising the importance of collaboration to advance research in cancer and improve patient outcomes. We are also grateful to all those who supported the #WorldCancerDay campaign on social media in early February. We encourage all our members to engage with the discussions on Twitter.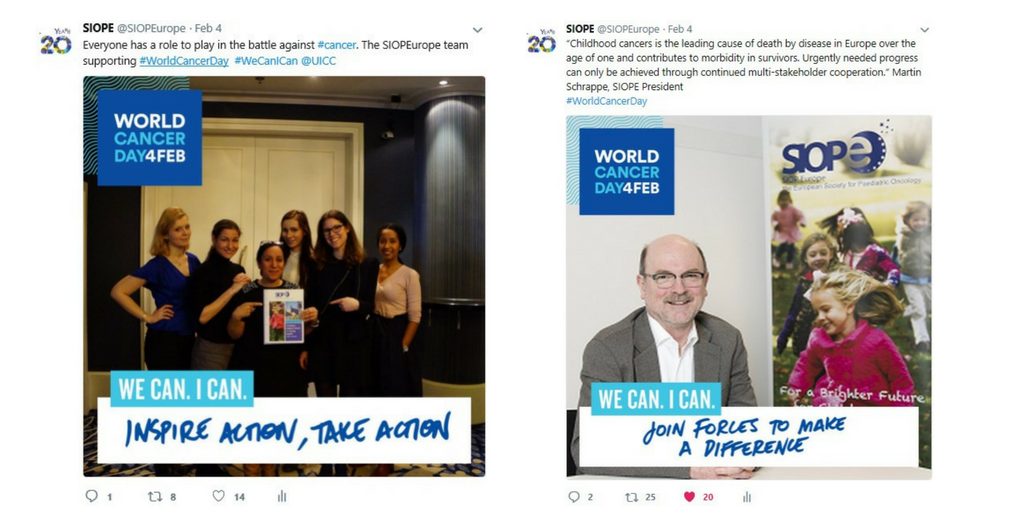 SIOP Europe 2019 Annual Meeting:
Registration opening in September 2018 There are consequently many developments in the European paediatric haemato-oncology area as various professionals and stakeholders are committed to bringing a brighter future for children and adolescents with cancer. One of the latest advances in this area is the first edition of the SIOP Europe 2019 Annual Meeting scheduled to take place on 20-25 May 2019 in Prague, Czech Republic.

As the Annual Meeting continues to expand in scope, we have the pleasure to announce that it will be held in partnership with CCI Europe and will include the 10th CCI Europe Regional Conference. Being a global network of parents groups, survivor associations, national organisations and childhood cancer support organisations, CCI Europe engages and collaborates with diverse stakeholders to ensure the availability and access to affordable, essential childhood cancer medicines and care. We are fortunate to have all these stakeholders present at the meeting to enable discussions across all the boundaries. This Annual Meeting is a distinct opportunity for professionals from various fields to share their knowledge and collaborate on cutting-edge research in paediatric haemato-oncology. It builds on the extensive experience accumulated in all types of disease entities by various tumour research groups within Europe. SIOPE aims to establish a platform that will improve cross-entity interaction and enhance the impact of modern insights in biology, pharmacology and genetics. By introducing a pioneering type of mentoring and training for young doctors and fellows in the field, sustainable career resources will be built up. Firmly based on an all-encompassing vision of paediatric haemato-oncology, this meeting will gather researchers, scientists, clinicians, young experts, patients, parents, survivors, policymakers and healthcare professionals of diverse profiles to tackle key issues to increase the cure rate for children/adolescents and the quality of life for survivors. All SIOP Europe and SIOP members, European tumour and clinical trial group members, parent groups, survivors, and relevant healthcare professionals with a common interest in paediatric haemato-oncology are invited to this meeting. Please kindly note that the SIOP Europe Annual Meeting is by invitation only. All SIOP members will receive an invitation during the summer and registrations will open in September.
Another upcoming key milestone is the special SIOPE event in partnership with the MAC Group (MEPs Against Cancer). The SIOPE – MAC Event 'Celebrating 20 Years of Progress in the Paediatric Haemato-Oncology in Europe' is scheduled to take place on 25 September 2018 (16:00–18:00, followed by a networking reception) at the European Parliament in Brussels. This event will be hosted by MEP Elena Gentile and co-hosted by MEP Alojz-Peterle MEP.

In addition, we are also delighted to announce the special SIOP Europe Gold Ribbon Awards, also scheduled to take place on 25 September (networking reception starting at 19:00 PM, followed by dinner, awards, entertainment and anniversary ceremony). The Awards ceremony will honour key personalities and their outstanding achievements in paediatric haemato-oncology. These Awards will be presented to individuals, organisations and companies for their dedication in making a difference for the childhood cancer community. Some of you may be asking 'why is this event held in September?' This will be one of the two key SIOPE initiatives held during the Childhood Cancer Awareness Month of September. We hope to build on the current SIOPE activities and bring forth a new awareness-raising campaign.

Policy-related activities Regarding health policy, SIOP Europe continues to take the lead in engaging the entire paediatric haemato-oncology community. Our vision is to continue working collaboratively to be able to ensure that an increasing number of children and adolescents with cancer can access treatment regardless of location, disease status, and seeking to guarantee the best possible outcomes. Please note that you may find detailed information by clicking on each of the following topics below:
Joint Action on Rare Cancers (JARC) launch of a targeted survey
Paediatric Medicines Regulation: SIOPE & Unite2Cure's role in advocating changes to the legislation
EPP Group position paper supporting childhood cancer policies and funding
Digital Transformation of health and care in the digital single market: SIOPE's contribution to the public consultation
Finally, we are also very pleased to announce Tomasz Szczepański (Poland) as SIOPE CRC Chair of the National Paediatric Haemato-Oncology Societies (NaPHOS) and Carmelo Rizzari (Italy) as SIOPE CRC Main Representative of the European Clinical Trial Groups (ECTGs). Both Tomasz Szczepański and Carmelo Rizzari are now SIOPE Board Members and have also joined the Programme Committee of the SIOP Europe Annual Meeting. I am very happy to welcome them and look forward to working together. As you can see in this newsletter, the SIOPE office has been very busy on many events and projects remaining fully dedicated towards our mission to bring a brighter future for children and adolescents with cancer.
I would like to wish you all a very relaxing and restful summer break. I look forward to reconnecting with you all again on 25 September during the SIOPE – MAC Event at the European Parliament and/or the SIOP Europe Gold Ribbon Awards in Brussels to mark our 20th Anniversary!
Kind regards,
Martin Schrappe
SIOP Europe President