__________________________________________________
September's Childhood Cancer Awareness Month
Our entire community is very grateful to Honourable Vice-President of the European Parliament, Ewa Kopacz, for championing the European Parliament endorsement of the 'Shine Gold' Campaign in September.
The lighting of the European Parliament building in Brussels (1-6 September) brought unprecedented visibility to the persistent burden of childhood cancer and is an important signal that the youngest citizens will not be left behind.
Furthermore, European Commissioner for Health Stella Kyriakides gave a video address to the European cancer community offering her full support to this initiative. She reiterated the importance of shining a gold light on the faces of these children and adolescents, their siblings and families, and that only together can we make a difference.
More information: https://siope.eu/shinegold

Launch of the Pharmaceutical Strategy for Europe and Roadmap Consultation on Revision of Orphan and Paediatric Regulations
On 25 November 2020, the European Commission released the Pharmaceutical Strategy for Europe and launched the Roadmap Consultation on the Orphan and Paediatric Regulations.
On this occasion, SIOP Europe and CCI Europe put forward this statement.
SIOPE and CCI Europe Recommendations on Access to Medicines
The European childhood cancer community unveils the 6 Key Recommendations to advance patients' access to medicines, accelerate innovation and improve regulatory environment for children and adolescents with cancer.
These recommendations will be discussed with all stakeholders on the occasion of the International Childhood Cancer Day (ICCD21) – a virtual event on 3 February 2021.
Read the 6 Recommendations and the full position paper here.
International Childhood Cancer Day 2021 – Webinar hosted by MEP Loucas Fourlas
SIOP Europe will once again mark International Childhood Cancer Awareness Day (ICCD, 15 February each year) through a Webinar that will be hosted by MEP Loucas Fourlas on 3 February 2021.
Browse the programme and register soon (places are limited).

SIOPE at Stakeholders' Workshops on Europe's Beating Cancer Plan
SIOPE was honoured to be invited and share perspectives on the needs of children and adolescents with cancer during the Europe's Beating Cancer Plan stakeholder workshops and to engage our members and partners across Europe to feed into the public consultations.
Europe's Beating Cancer Plan truly holds great promise for over 6,000 children and adolescents in Europe who are losing their battle with cancer each year and the 500,000 survivors experiencing serious late-effects, their families, and society at large.
Release of Cancer Mission Board Interim Report with Recommendation 11 on Childhood Cancers
The Cancer Mission Board Interim Report was announced in summer 2020 proposing concrete targets and a timeline for a possible mission. The interim report was the basis for further discussion and engagement with Europeans to make sure that the proposed mission is relevant and will make a real difference.
Recommendation 11 focus on 'Childhood cancers and cancers in adolescents and young adults: cure more and cure better'.
Online Poll on Cancer Mission Area: Childhood Cancer Voice in Top 10
The European Commission opened an Online Poll in September 2020 to receive citizen and stakeholder votes on what the Cancer Mission should focus on.
The childhood cancer community was ranked in the top-10 most upvoted posts pinpointing unmet paediatric oncology research and innovation needs where the Cancer Mission could make a transformational change.
Find here the messages on 'Beating Childhood Cancer: from Aspiration to Realty'.
Prof. Gilles Vassal Accepts 2020 Rosen Research Award
Congratulations to Gilles Vassal, MD, PhD, SIOP Europe Board Member and founder and chairman of ACCELERATE, the 2020 recipient of the 5th Annual Leonard M. Rosen Memorial Research Award for his outstanding contribution to childhood cancer policy and advocacy.
Watch the presentation by Leonard Rosen's grandson Ben and the acceptance by Prof. Vassal here.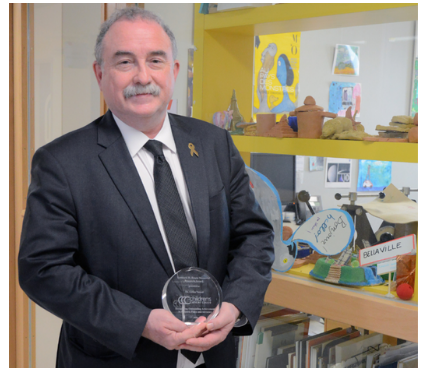 Prof. Pamela Kearns delivered a speech at the BECA Hearing on Cancer Research
The purpose of the Public Hearing 'Supporting research on cancer – New mission on cancer within Horizon Europe' was to provide BECA Members (MEPs) with in-depth information on how to support cancer research in terms of strengthening prevention, diagnosis, treatment and innovation, also with a view to achieving the new mission on cancer within Horizon Europe, including financial support.
Prof. Pamela Kearns addressed the needs of childhood cancer patients within the second part 'Cancer research: Elevating the standards of cancer care in the EU.'
Watch the hearing here with Prof. Kearns' presentation (at time stamp 17.51.30 and response to queries by MEPs at time stamp 18.36.35.).