We are very pleased to announce that Professor Carmelo Rizzari will take over the Presidency of SIOP Europe for the years 2022-2024 starting as of 1st January 2022.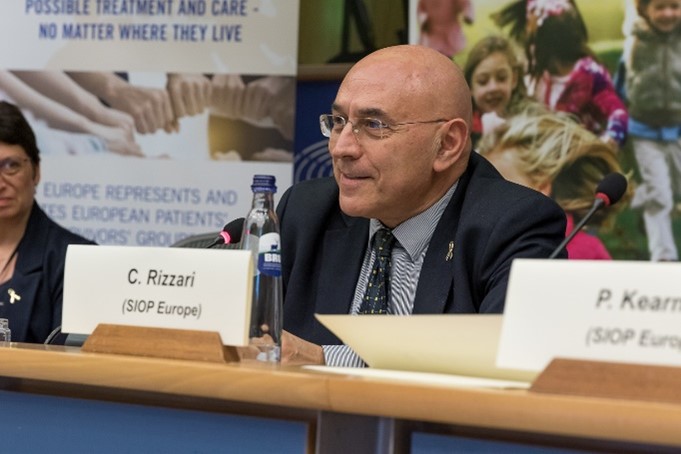 Carmelo Rizzari succeeds Professor Pamela Kearns, who has been President for the past three years.
The SIOP Europe Board, Secretariat, Members and Partners wish to extend an enormous and heartfelt thank you to our Professor Kearns for leading SIOP Europe through numerous challenges these past years.
We congratulate Prof Pamela Kearns on many first-time new accomplishments some of which are: the first SIOP Europe Annual Meeting, the first Virtual Meeting, the publication of the Strategic Plan Update 2021-2026, increasing SIOPE membership, SIOPE's 20-years Celebrations and making childhood cancer visible and prominent on the EU agenda.

Pamela Kearns: ''I would like to congratulate my friend and colleague Carmelo and wish him a very successful and rewarding time as the SIOP Europe President. I am confident that SIOP Europe could not be in more capable hands''.
Being a SIOP Europe Board Member for many past years, Carmelo Rizzari has a solid understanding of SIOPE's organisation, mission and strategy. He has been involved in the field of paediatric leukaemia's with a special interest for both traditional and innovative chemotherapy agents. He is currently running the Paediatric Haematology-Oncology Unit in Monza (within the frame of the University of Milano-Bicocca, Italy), which is one of the largest centres for the diagnosis and treatment of haematological malignancies in Italy.
Announcing new Board Members:
Joining the SIOP Europe Board in January 2022 are:
Uta Dirksen
Uta is a vice director of the Pediatric III Hematology, Oncology, Cardiology, Rheumatology, Immunology and Pulmonology of the University Hospital Essen and a full Professor in Pediatrics at the University Duisburg-Essen.
She is the elected vice chair of the German Society for Pediatric Oncology and Hematology (GPOH) and leader of the Adolescents young adults and transition "AJET" group of the GPOH.
Uta Dirksen has been elected as the Clinical Research Council Main Representative of NaPHOS as of January 2022.

Cormac Owens
Cormac Owens is a paediatric oncologist working at Children's Health Ireland in Dublin and Clinical Associate Professor at University College Dublin.
He is a member of SIOPEN, EpSSG, EuroEWING, ITCC and ACCELERATE.
Cormac Owens has been elected as the Clinical Research Council Main Representative of ECTGs as of January 2022.

Katrin Scheinemann
Katrin is a board certified paediatric oncologist-haematologist with over 20 years of experience in the field. She has worked in different hospitals before being appointed as division head for paediatric oncology-haematology at the Kantonsspital Aarau. Here she has established the LACC (Life after childhood cancer) research group, she is currently the co-chair of our national LTFU working group and the president of the Swiss Pediatric Oncology Group (SPOG).
Katrin Scheinemann is the Chair of PanCare.

Maria Otth
Maria Otth is a board-certificated paediatrician by training (FMH) from Switzerland and in the middle of paediatric haematology/ oncology fellowship. She has been elected the Chair of the Young SIOPE Group.
We are very pleased to welcome all four to the SIOP Europe Board.
In addition, as announced during the last SIOP Europe General Assembly (8 September 2021) – SIOP Europe currently has 3 vacant positions to join the SIOP Europe Board, as from 1 January 2022.
We have received many applications for those positions, for which we would like to thank you very much. The voting procedure is currently open and 3 new Board Members will be elected by the SIOPE national representatives by the end of December.
Last but not least, we would like to sincerely thank all Board Members who are stepping down from the Board this year – Tom Boterberg, François Doz, Lars Hjorth, Tomasz Szczepanski and Reineke Schoot. You have tirelessly given your time and resources to support the mission of SIOP Europe.
To each of you, thank you for your leadership and your guidance.