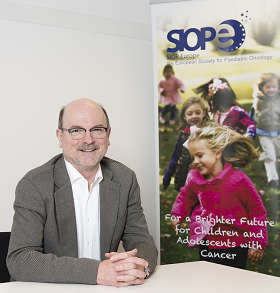 Dear SIOP Europe members, partners, colleagues and friends,
Thank you for the opportunity to address you for the last time as SIOP Europe's President. I will be leaving you in very good hands as I have worked with Pamela Kearns (SIOP Europe President-Elect) over the years and know for sure she will be an excellent leader for SIOP Europe for the next 3 years.
Looking back at some key highlights:

The only words adequate to describe the past three years are inspirational and incredible. Paediatric oncologists and haematologists are resilient. They are always present for their patients and taking up many voluntary roles to achieve better outcomes for their patients. There has been so much progress, many activities, events and accomplishments at SIOP Europe over the past years. One only needs to read the SIOP Europe newsletter, check the news section on the website or browse the SIOP Europe social media channels to see the great work done by our board members and the SIOP Europe staff. I am extremely honoured to have served as President of SIOP Europe. Our board officially began its term on January 2015 and we have had a very productive time.
I would like to highlight a few of the initiatives and issues that have meant the most to me:
Setting up the first SIOP Europe Annual Meeting: Scheduled to take place on 20-25 May 2019 in Prague. A unique event including novel session formats, interactive workshops and forums, the programme overview is now available, invitations have gone out and registration is open.
SIOP Europe reached an important milestone this year and celebrated 20 years of progress and activity in paediatric haemato-oncology in Europe. On the occasion of SIOP Europe's 20th Anniversary, and during the Childhood Cancer Awareness month of September, two special events took place on 25 September: SIOPE – MAC (MEPs Against Cancer) and SIOP Europe Gold Ribbon Awards.
SIOPE – MEPs Against Cancer (MAC) Group Policy Event: Celebrating 20 years of progress in paediatric haemato-oncology in Europe. Held at the European Parliament on 25 September, this was the most well attended SIOPE – MAC Event to date. Hosted by MEP Elena Gentile (S&D, IT) and co-hosted by MEP Alojz Peterle (EPP, SL and President of the MAC Group) with the support of the Association of the European Cancer Leagues (ECL), the event was an occasion to thank policy-makers for their commitment to the childhood cancer cause and trace the road towards further progress.
SIOP Europe Gold Ribbon Awards: Attended by approximately 100 people from diverse fields, key influencers of the paediatric cancer community were recognised for their outstanding contribution to the paediatric cancer cause through the Awards Ceremony. The Awards were presented to experts of the wider paediatric cancer community – policy-makers, scientists/academics and civil society – for their outstanding contribution to the paediatric cancer cause.
A resonant call for a European childhood cancer moonshot for the next EU budget: Regular dialogue with the representatives of the European Institutions focused on the best ways to strengthen international multi-stakeholder cooperation. As I stated at the ICCD2018 event at the European Parliament, "Innovative ideas cannot survive if they do not get sustainable funding. There is a strong need for innovation and improvements to be made for the paediatric cancer sector".
The Survivorship Passport is a tool aiming to provide all European childhood cancer survivors with optimal long-term care. Launched in Italy on 13 February 2018, all 53 AIEOP centres in Italy will be able to use the Survivorship Passport for their patients at the end of treatment. SIOP Europe looks forward to seeing more countries in Europe adopt the Survivorship Passport. The ultimate goal is to enable instant access to the medical history of patients who ended a cancer therapy, making survivors and healthcare professionals aware of the potential risks or late effects stemming from the previous disease and treatment received.
conect4children (c4c): Launch of a new private-public partnership to improve clinical trial infrastructure to facilitate the development of new drugs for children in Europe. As I mentioned during the launch, "The paediatric haematology and oncology community in Europe has made important strides to increase the rate and quality of cure for children and adolescents with cancer. Nevertheless, important needs remain and can only be addressed with further international cooperation and public-private partnership. There is a strong need for innovation and improvements to be made for the paediatric cancer sector". Here, many thanks go to Past-President Gilles Vassal who made sure that SIOP Europe is visible in this project by contributing the experience with the Strategic multi-stakeholder forums.
European Commission 10-year evaluation report of the Paediatric Regulation and the launch of the EMA and European Commission plan to improve its implementation: SIOP Europe and Unite2Cure advocacy efforts were fruitful when EU policy makers recognised the hurdles encountered in accelerating the development of much needed innovative medicines for children with cancer. Although there is a long road ahead, there is now ground for further multi-stakeholder dialogue and cooperation to achieve concrete change.
Progress in the Work Package fully dedicated to Paediatric Cancer and led by SIOP Europe as part of the EU Joint Action on Rare Cancers (JARC): continuously involving also parents and patients, SIOPE made important strides towards formulating the final evidence-based recommendations to improve access to essential therapies, innovation, and survivorship care models across Europe.
The ACCELERATE Platform constitutes a transparent international forum for diverse stakeholders caring about accelerating new oncology drug development for children and adolescents. The 7th edition of the Paediatric Oncology Conference (14-15 February 2019 in Brussels) is based on an all-inclusive vision of strengthening international cooperation in order to improve global development of new paediatric oncology drugs.
The ERN PaedCan General Assembly took place on 25 September 2018 in Brussels and was attended by 80 participants. Various stakeholders provided an update on the project, the detailed implementation plan, project performance quality indicators and the deliverables for Year 2. Participants were engaged in interactive discussions.
The second Consortium Meeting of the ERN-PAEDCAN Partner: Paediatric Rare Tumours Network – European Registry took place on 15 September in Gdańsk, Poland. The purpose of this second Consortium Meeting was to discuss work packages progress and the possible activities for Year 2 of the project implementation. The meeting was followed by the LHEAR (Low Health Expenditure Average Rate) countries PARTNER meeting.
Looking back, these past years have proved to be extremely exciting! We had a multitude of activities and events over the past years. Our steering committee, which includes myself, the Past-President and President-Elect developed the concept for the SIOP Europe Annual Meeting. The model for this meeting, compiled by input from board members and feedback from members helped steer our organisation to new heights and ensure we remain effective to achieve the objectives as defined in our Strategic Plan.
Policy and advocacy:

In the policy area, we advocated for the importance of cross-border collaboration in cancer research and sustainable cross-border research platforms; called for a European childhood cancer moonshot; the need for sustainable ERN model, the urgent action following release of the European Commission report on 10 years of the EU Paediatric Regulation; and the European Parliament's role in prioritising patients, public health and health security across Europe in accordance with our vision of access to better healthcare for children and young people. We worked diligently together with Unite2Cure calling for concrete proposals to amend the Paediatric Regulation in order have more and better cures for children and adolescents with cancer across Europe. We also advocated that we need research and innovation when it comes to our patients so that new and targeted therapies could be developed. It was inspirational to work extensively with so many diverse stakeholders including policy-makers to explore actionable ways to coordinate care, improve access and quality. I learned so much working with everyone as we strove to understand and set up initiatives towards our mission where no child dies from cancer in Europe.
SIOP Europe events since summer 2018:
I am also very pleased to report to you that numerous activities and events took place since the last newsletter (summer edition):

Evaluating the achievements and next steps:
So what is next for me? I will continue to work with the Board on various issues and continue to foster relationships and dialogue. I am passionate about the SIOP Europe Annual Meeting and will carry on championing the necessity of bringing together all these diverse stakeholders together once a year to exchange, learn from each other and network. SIOP Europe is a professional medical society but it is so much more than that. SIOP Europe is an active community of engaged professionals at all stages of careers and life. Our organisation is a shared space of friends and colleagues who actively work together for a brighter future for children and adolescents with cancer. This type of cooperative and collaborative environment has never been more important especially as we continue sharing our knowledge, building new platforms to exchange the latest scientific developments from various fields and advocating for a regulatory environment that will serve our all-encompassing mission. It is timely for us to question standard practice and find solutions that are more creative and the SIOPE Strategic Plan provides the overarching vision to achieve our objectives. SIOP Europe provides this environment – where professionals from different fields come together to address the most topical issues and to provide education and engagement opportunities for all our members. SIOP Europe is indeed a volunteer organisation – we work because everyone works. We welcome ideas, engagement, commitment, and willingness to help strive towards our vision and mission. Should you want to become more involved, we welcome your participation. Today, SIOP Europe boasts of 1850 members from 35 countries and we are very keen to engage the membership and to figure out the needs. This is why we carried out a survey during the SIOP 2018 Congress in Kyoto. The aim is to understand our members' needs to allow us to serve everyone better. This survey is available online until 31 January 2019 and we encourage you to share your views with us. Furthermore, we are pleased to announce that a new SIOP Europe group dedicated to Young Oncologists has been formed: the Young SIOPE Group. Recognising the need to support the future of Europe's healthcare and future paediatric oncologists, we would like to extend our membership to younger medical professionals with an invitation to join the upcoming Annual Meeting in Prague. SIOP Europe events in 2019: I would like to remind you that 2019 will be busy but we look forward to making it interesting and fun as well! Please do take note that SIOP Europe will be developing a European Elections Manifesto and will host three signature events next year.
I hope that you will consider attending the following events and actively engage as a SIOP Europe member:
Introducing Pamela Kearns (SIOP Europe President-Elect):
It is with great pleasure that I share with you that Pamela Kearns will be taking the Presidency of SIOP Europe starting in January 2019. Pam is Professor of Clinical Paediatric Oncology at the Institute of Cancer and Genomic Sciences, University of Birmingham and Honorary Consultant in Paediatric Oncology at Birmingham Children's Hospital. She is also Director of the University of Birmingham's UKCRC registered, Cancer Research UK Clinical Trials Unit, delivering a wide-ranging programme of clinical trials across all types of cancer in all age groups, notably leading the National Children's Cancer Trials Team responsible the vast majority of UK's clinical trial portfolio for children and young people with cancer. In 2015, Pam was appointed as a Senior Clinical Advisor to Cancer Research UK. For more information on the experience that Pam will bring to her new role, please see her full bio here. The SIOP Europe Board has always been impressed by Pam's dedication and to the patients we serve. We are looking forward to welcoming her in her role of President of SIOP Europe.
I would like to end on a special note of thanks and appreciation to fellow paediatric oncologists and haematologists, researchers, and all the various partners including policy-makers and especially parents, patients, survivors dedicated to a brighter future for children and adolescents with cancer.
Moreover, I wish to thank also the Steering Committee, Board, CRC and especially the SIOP Europe staff for their support, dedication and countless hours of work devoted to the children and young people we serve.
Finally yet importantly, I would like to wish you and your families Happy Holidays, and all the best for the New Year! Kind regards,
Martin Schrappe
SIOP Europe President