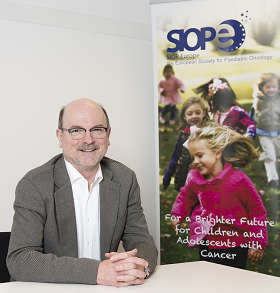 Dear All,
I hope you all have had well-deserved relaxing end-of-year Holidays. I wish you all a successful and healthy 2018!
We have been quite busy and rather productive at SIOPE last year by achieving most of the objectives we set out for 2017.
I am excited to share that SIOPE will be organising a Paediatric Oncology Annual Meeting.  The first edition ofSIOP Europe will be held on 20-25 May 2019 in Prague, Czech Republic. This unique event will include novel session formats, which will be comparable to interactive workshops. The meeting will host most of the European clinical trial groups, thereby disseminating the outcomes of the high-quality clinical and basic research carried out in Europe.  All SIOP and SIOPE members, plus parent groups, and survivors will be invited. We have received a lot of encouragement from different stakeholders as well as from industry to support this event. In the future, this annual event will bring together our community to learn, exchange, and network in Europe, and beyond.  Further detailed information about this Annual Meeting will be available early this year and we encourage you to already book your agenda!
You may recall that theSIOPE Strategic Plan was officially launched at the end of 2015.  Since then, SIOPE has taken the lead in coordinating the implementation of the Strategic Plan.  The SIOPE Board defined the leaders responsible for the various objectives, strengthened partnerships with all stakeholders, and initiated several cross-tumour platforms and projects to address the critical variables that could facilitate the Plan's implementation.  There is significant progress in the Plan's implementation and in carrying out several initiatives.  The detailed achievements for the year 2016 are available on the SIOPE website.
In addition to the Strategic Plan, we have made considerable progress in a number of our projects:Joint Action on Rare Cancers (JARC), Quality and Excellence in Radiotherapy and Imaging for Children and Adolescents with Cancer across Europe in Clinical Trials (QUARTET), European Reference Networks on Paediatric Cancer (ERN PaedCan), the Survivorship Passport, and the ACCELERATE platform.  You may want to read the key highlights further in this newsletter.
SIOPE also took part in various events including a first collaboration with the European Society of Gynaecological Oncology (ESGO).  This relationship resulted in a joint ESGO-SIOPE session about the multidisciplinary treatment of gynaecological cancers in adolescents at the ESGO Congress on 5 November. We thank all colleagues who invested their time in moving this forward.
Looking ahead, I would like to remind you that SIOPE's awareness event forInternational Childhood Cancer Day will take place on 20 February 2018 at the European Parliament in Brussels.  Once again, MEP Elena Gentile (IT, S&D) will be hosting this event and we invite you to join the debate and discussions to tackle childhood cancers in Europe.
Another event to keep in mind for early this year is the6th ACCELERATE Paediatric Oncology Conference on 8-9 February 2018 in Brussels, Belgium.
Later in the year, the MEPs Against Cancer (MAC) Event will take place in September (date to be confirmed) at the European Parliament in Brussels.
Last but not least, we are pleased to inform you that the year 2018 marksSIOPE's 20th Anniversary.  This occasion is an opportunity to celebrate the achievements within the paediatric oncology sector in Europe over the last 20 years, demonstrating the impact of SIOPE's work and address challenges for the future.  The 20th anniversary will include a variety of activities and campaigns throughout 2018, covering a range of childhood cancer issues and emphasising topics linked to SIOPE's strategic plan.
As you can see from the list of topics and events appearing in this newsletter, the SIOPE office has been very active on all the objectives and goals, striving to achieve its mission for a brighter future for children and adolescents with cancer.
Wishing everyone a very fruitful and Happy New Year! Martin Schrappe, SIOPE President