The European Society for Paediatric Oncology (SIOP Europe, or SIOPE) is enthusiastic to announce the publication of its manuscript on market access to new anticancer medicines for children and adolescents in the European Journal of Cancer on 27 February 2022.
This is the first time that such data on the HTA evaluation of paediatric anticancer medicines is released.
The article addresses the Health Technology Assessment (HTA) of 3 selected anticancer medicines: Blinatumomab, CAR-T, and Dinutuximab with the aim to foster dialogue with HTA bodies regarding the current evaluation approaches to new agents in paediatric oncology.

SIOPE Access to Medicines Project
Following marketing authorisation by the European Medicines Agency (EMA), it takes time until a new medicine is effectively introduced into the market by the HTA agencies. Currently, there are differences in the timelines of HTA evaluation across European countries, which may lead to delays and inequalities in access to new medicines for children and adolescents with cancer. The paediatric haemato-oncology community lacks hands-on knowledge of the current assessment procedures and reasons for the delays in medicines' market entry.
For this reason, the SIOP Europe Access to Medicines Project was created in 2019 to, among others, explore the HTA evaluation methodologies for new paediatric anticancer medicines and identify the sources of delays in market access. The project systematically investigated the HTA analysis of 3 newly approved anticancer medicines for the paediatric population: blinatumomab, CAR-T, and dinutuximab. This analysis was complemented by a survey to compare findings with the experience of paediatric oncology professionals treating children first-hand.
This HTA analysis and survey were pioneered by Young SIOPE and HTA experts in the field.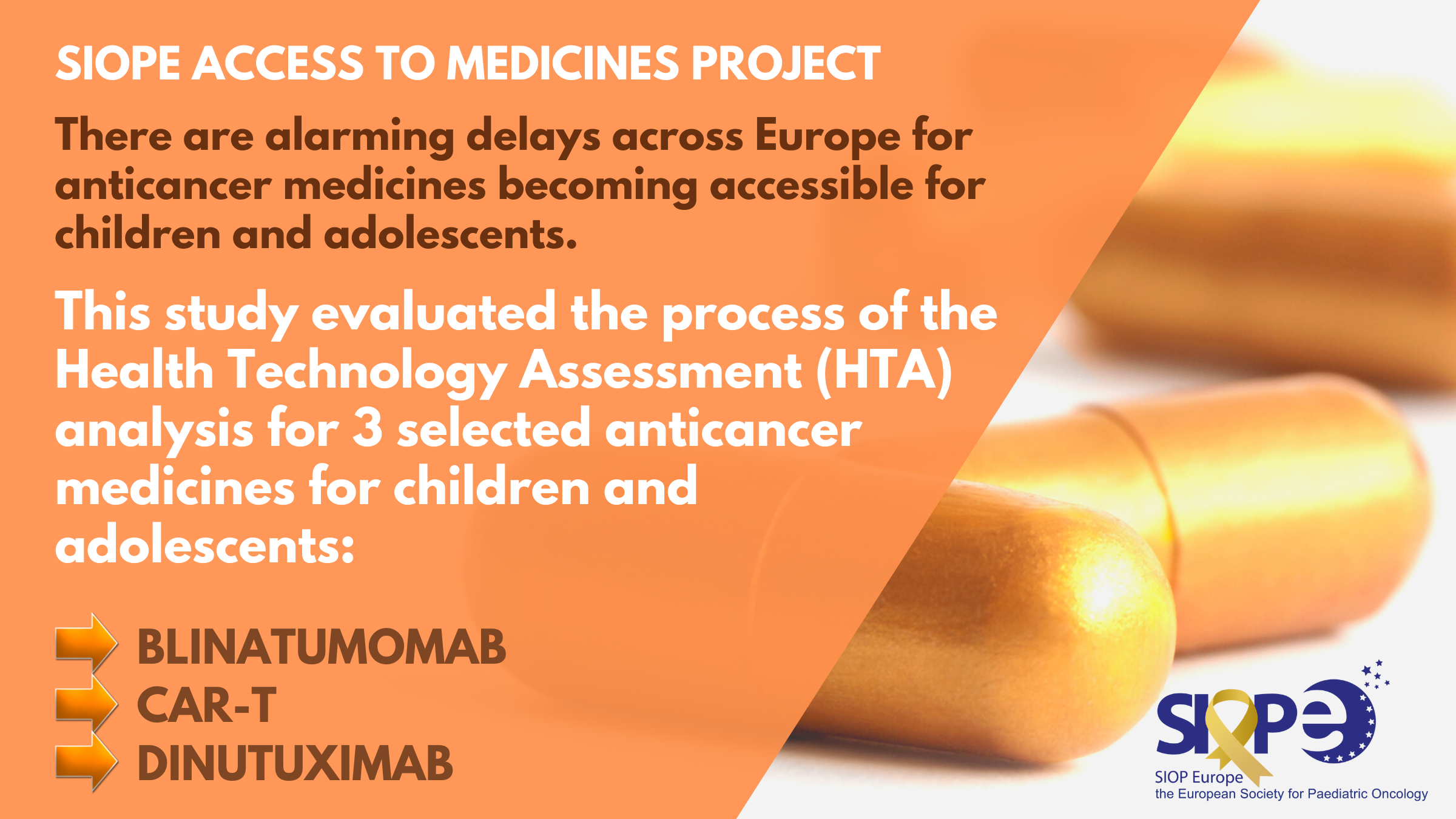 The project team collected HTA reports from the public domain for 9 European countries (France, Germany, Ireland, Italy, the Netherlands, Norway, Poland, Scotland and England / Wales) for these 3 selected anticancer agents. Project participants evaluated the time (in days) elapsed between the moment of the EU (EMA) marketing authorisation for a paediatric indication and the national HTA decision as well as the nature of the HTA decision.
The results depict substantial differences in the median time to HTA decision after regulatory approval across Europe and clearly show variability across countries and products. This may be affected by different factors such as pharmaceutical company strategies and differences between HTA methodologies.

SIOP Europe is grateful to see the results of this analysis being published. The data illustrates ample variability in HTA decision making across the 9 European countries. Collaboration and alignment of evidence required by HTAs would be essential to facilitate rapid and equal access to novel potentially life-saving medicines for children and adolescents with cancer in Europe.
To read the full publication, please access here.
More information about the SIOP Europe Access to Medicines Project can be explored here.
For any further information please do not hesitate to reach out to: office@siope.eu