Celebrating 20 years of progress in paediatric haemato-oncology in Europe
Since 1998, SIOP Europe has been working with all stakeholders at the European level to achieve more and better cures for paediatric cancers. EU projects and dialogue with policy makers have been instrumental to make strides in a number of key areas for paediatric haemato-oncology such as innovation in paediatric medicine and equal access through the European Reference Networks (ERN PaedCan).
In 2018, SIOP Europe marked 20 years of progress and efforts towards a brighter future for children and young people with cancer during the Childhood Cancer Awareness Month of September.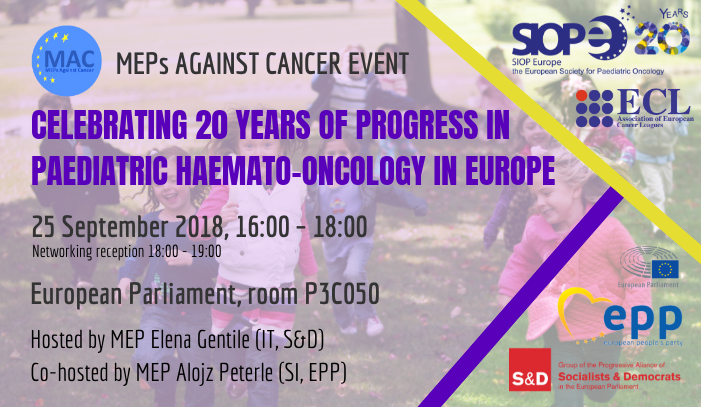 Chairs: MEP Elena Gentile (S&D, IT) and MEP Mr. Alojz Peterle (EPP, SL)
See the news release here. View the event photos here. Speakers included: European Parliament:
Elena Gentile MEP (S&D, IT)
Françoise Grossetête MEP (EPP, FR)
Alojz Peterle MEP (EPP, SL) and President of the MAC (MEPs Against Cancer) Group
European Commission:
Vytenis Andriukaitis, European Commissioner for Health and Food Safety (video address)
Andrzej Rys, Director – Health systems, medical products and innovation, DG SANTE, European Commission
Ioannis Vouldis, Policy and Programme Officer, Health Directorate, DG RTD, European Commission
European Medicines Agency (EMA):
Ralph Bax, Head of Paediatric Medicines
Academia:
Pamela Kearns, SIOPE President-Elect (University of Birmingham, UK)
Ruth Ladenstein, SIOPE Board Member, ERN PaedCan Coordinator (Children's Cancer Research Institute, AT) - See the presentation
Martin Schrappe, SIOPE President (University Medical Center Schleswig-Holstein, DE) - See the presentation
Gilles Vassal, SIOPE Board Member (Gustave Roussy, FR) - See the presentation
Parents and Survivors:
Aida Kopriva-Kryeziu, Childhood Cancer International - Europe (SE)
Holly Wattwil, Childhood Cancer International - Europe (SE)
Click on the button below to access the full programme:


Link to the event photos.