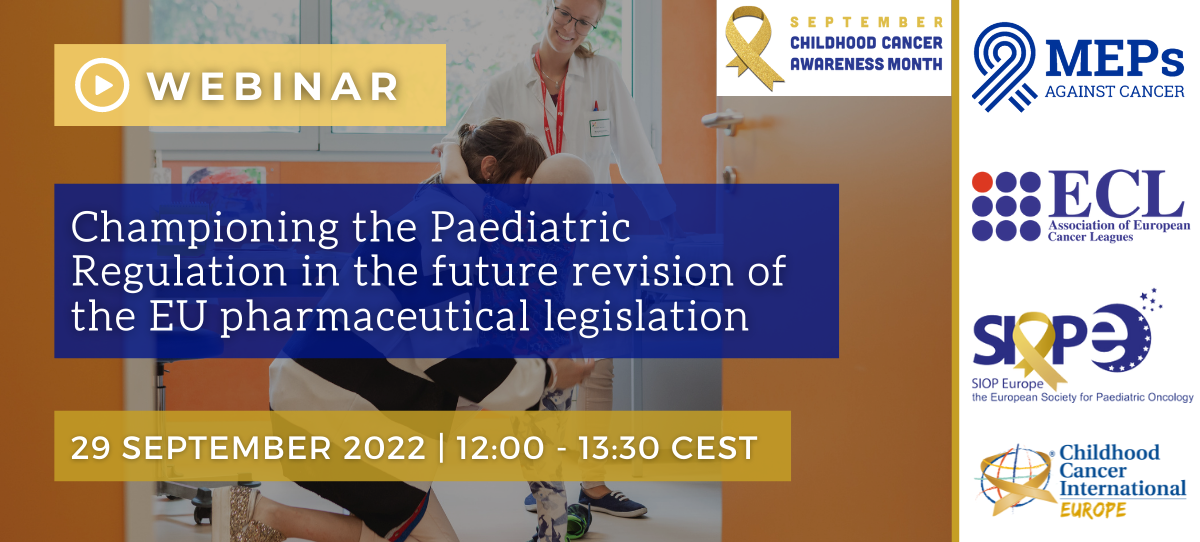 MAC – SIOPE WEBINAR FOR GOLD SEPTEMBER:
CHILDHOOD CANCER AWARENESS MONTH
Championing the Paediatric Regulation in the future revision of EU pharmaceutical legislation

Thursday, 29 September 2022 (12:00 – 13:30 CEST)
Hosted by: MEP Véronique Trillet-Lenoir (Renew Europe, FR), MAC Interest Group Co-Chair
Co-organised with the Association of European Cancer Leagues (ECL) and in cooperation with Childhood Cancer International – Europe (CCI Europe)

Gold September is a universally recognised occasion to raise awareness of childhood cancer and 'shine the light' on young patients and their specific needs. Initiated by parents, patients, and survivors of childhood cancer at the grassroots level, the campaign has today become a broadly endorsed initiative with a prominent global presence.
In Europe, the organisations representing childhood cancer parents, patients, survivors, healthcare professionals and scientists will once again mark the campaign through a dedicated policy event in cooperation with the MEPs Against Cancer (MAC) Interest Group at the European Parliament and ECL.
The European childhood cancer community recognises the commendable efforts already being made by EU policymakers and wishes to build on progress and go further.
This year's event will focus on the need to champion the importance of a fit-for-purpose EU Paediatric Regulation and inspire policy makers' commitment to its meaningful revision for the benefit of all children and adolescents with cancer.
As policymakers, medical professionals, patient advocates and democratically elected representatives of Europe, together we have enormous capacity to push for action to accelerate timely access to innovative, high-quality, safe medicines for young cancer patients.
We hope that you will be able to attend the event and engage with the community on how to ensure that the EU Paediatric Regulation delivers for Europe's youngest citizens.
#EUPaediatricRegulation
#LetsTalkAccess
#ChildhoodCancerAwarenessMonth