Our community is increasingly growing each year: today, SIOPE reunites and represents over 1,500 members, individual professionals committed to a better paediatric oncology care and research in Europe.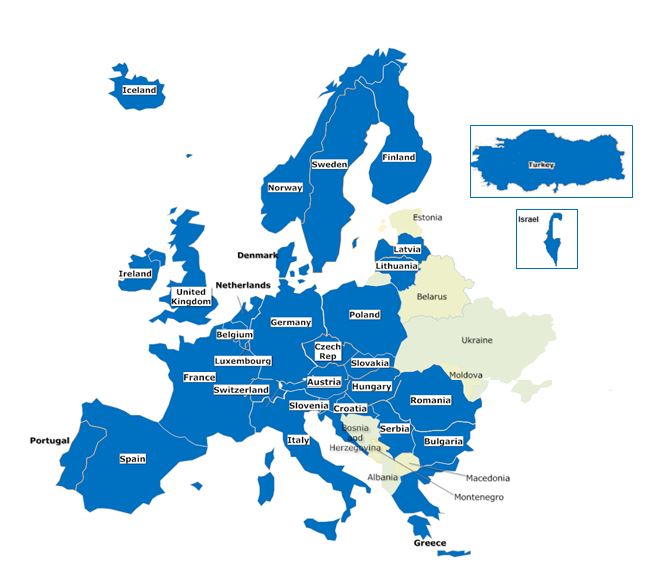 While our new membership model is operational since late 2012, the number and geographical provenience of our members considerably expanded over the past years: in 2013 SIOPE counted 807 members from 24 countries; in 2014, 1,356 members from 27 countries; and this year 1,553 members from 31 European countries joined SIOPE, also from outside the European Union (an increase of 68%). Only last year, individual members from 4 new countries - Bulgaria, Latvia, Romania and Luxembourg - decided to join our Society.
Members of SIOPE come from all countries in which a National Paediatric Haemato-Oncology Society (NaPHOS) exist. The process to renew our membership occurs once a year thanks to the important collaboration of the NaPHOS, that circulate SIOPE membership application forms and information to all their individual members. We decided to build our membership structure this way, in order to build stronger and long-lasting links with our national counterparts, as well as to avoid overlaps with the national procedures of affiliations to professional societies.
However, SIOPE also represents members from those countries where a NaPHOS doesn't exist (yet): in these special cases, we foresee a special institutional membership scheme. Finally, as we need to also consider committed individuals that do not belong to a professional society (e.g. patient advocates), there is the possibility to join SIOPE via a specific individual membership scheme. For more information on how to join our Society, please contact the SIOPE Office (office@siope.eu).
We are aiming to build even stronger ties with our current members, as well as to further expand our membership base. At the moment, we are preparing an interactive intranet for you to access all the information concerning SIOPE opportunities, initiatives, events and affiliation. However, with this objectives in mind, we will soon directly contact and address key questions to you, SIOPE members, in order to offer you increasingly targeted membership advantages as well as to identify your most pressing needs anddesiderata.
More information: