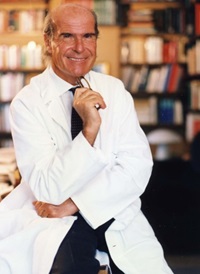 We would like to express our most sincere condolences for the passing away of Professor Umberto Veronesi (28 November 1925 – 8 November 2016). As one of the founding members of the
European CanCer Organisation (ECCO)
, SIOPE would like to thank Professor Veronesi for having engaged six European societies of the main cancer disciplines to come together and found the Federation of European Cancer Societies (FECS, which then became ECCO). A key figure in the international fight against cancer, Professor Veronesi dedicated his professional life to the study and treatment of oncological diseases. Born in Milan, he obtained his degree in medicine in 1952, and – after spending short periods in England and France – he joined the Italian Cancer Institute in Milan. He supported and promoted scientific research aimed at improving conservative surgical techniques, and contributed to breast cancer prevention. After directing the Istituto Nazionale dei Tumori in Milan for 18 years, in 1994 he founded the European Institute of Oncology, which he then directed until his death. He was appointed President of the Scientific Committee of the Italy-USA Foundation in 2010. President of FECS/ECCO from 1981 to 1983 and then again from 1991 to 1993, he founded the
European Society of Surgical Oncology (ESSO)
and the
European School of Oncology (ESO)
and, in 2003, he also established a Foundation that bears his name (Fondazione Veronesi) and promotes scientific research and communication in the field of oncology. Entrusted with the post of Minister of Health in the Italian Government (2000-2001) and Senator of the Italian Parliament (2008-2011), Veronesi gave impetus and innovation to medical research in Italy more than any other. When asked of old age and death replied:
"our real goal should be not only live longer, but enjoy the time we have (…)  It is here, in our brain that I believe is the secret of longevity:  do not take anything for granted, cultivate curiosity, desire and transgression, and never adapt to rules that you don't believe in."
Before he passed away at the age of 90 years, Professor Veronesi left us with a simple but effective recommendation "Go ahead, because the world needs science and reason"
('Andate avanti, perché il mondo ha bisogno di scienza e ragione'
). More information: