Register now to ECCO2017 and the SIOPE Society Day:
2 Key Events for Only €494 (instead of €989)
SIOPE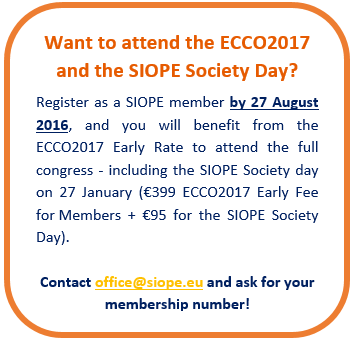 presents a highly innovative programme for its community of professionals working in the field of childhood cancers. Don't miss the opportunity to discover the latest innovations in the paediatric and adult oncology world: register now to the ECCO2017 and to the SIOPE Society Day! If you
register by 27 August 2016
as SIOPE member, you can attend both the full ECCO2017 congress and the SIOPE Society day at €494 (€399 ECCO2017 Early Fee for Members + €95 for the SIOPE Society Day).