Dear colleagues,
It was with great honour and enthusiasm that I took over the Presidency of SIOP Europe on 1 January 2019. For some of you, we have known each other for many years, through our shared work for a brighter future for children and young people with cancer. For others, I look forward to getting to know you better, so that we can accomplish our mission. I have always felt that SIOP Europe brings together our community to strive towards our shared vision and mission. It will be my pleasure to serve SIOP Europe and the community as President for the next three years. Thank you in advance for your commitment as we work together towards a bright and productive future.
I would like to take this opportunity to pay tribute to Martin Schrappe, for his dedication and leadership over the last three years. His Presidency was marked by many accomplishments in line with our long-term vision for the future and especially the successful launch of the SIOP Europe Annual Meeting. Martin is passionate about the SIOP Europe Annual Meeting and will carry on championing the importance of bringing together the diverse stakeholders once a year to exchange knowledge and opinions, to learn from each other, to network and importantly to socialise! I am delighted to inform you that over 1100 participants have already registered and we look forward to seeing our community working together in Prague at the SIOP Europe 2019 Annual Meeting from the 20th to 24th May.

Furthermore, I am pleased to inform you that thanks to Martin, a new group within SIOP Europe has been formed: Young SIOPE. This Group was created in recognition of the need to support the future of Europe's healthcare through future paediatric oncologists. The Young SIOPE Group will be officially launched at the SIOP Europe Annual Meeting. I also want to take this opportunity to thank the outgoing Board Members who have served on the SIOP Europe Board for many years, including Gianni Bisogno, Karsten Nysom, Kathy Pritchard-Jones, Riccardo Riccardi, Jan Stary and Maria Grazia Valsecchi.
We are very grateful for their tireless efforts and dedication towards promoting the values of SIOP Europe. I am honoured to welcome four new outstanding members to the SIOP Europe Board: Tomasz Szczepański (CRC Co-Chair), Carmelo Rizzari (CRC Co-Chair), Andishe Attarbaschi (Education) and Reineke Schoot (Young Oncologists). I look forward to working with all the new Board Members. Given the impressive track records and diverse backgrounds of our board members, we are confident of their leadership and impact.
I have always felt that SIOP Europe is founded on a strong ethos of collaboration and all our Board members bring their individual expertise, talent and energy to the table. We feel fortunate to have their knowledge and leadership collectively as we strive for a brighter future for children and young people with cancer. SIOP Europe has had a very busy start to the year, as you can see below in the overview of events. You can read about all the events and much more in detail throughout this newsletter including:
I'm delighted that our recent International Childhood Cancer Awareness Day event in the European Parliament was hosted and attended by such committed MEP advocates as Elena Gentile, Alojz Peterle and Lieve Wierinck. A very important highlight of this event was the launch of the SIOP Europe and CCI Europe 2019 European Elections Manifesto for the paediatric oncology and haematology community: "Beating childhood cancer: Cure more and cure better – Towards zero deaths and zero late effects".

I am very appreciative that childhood cancer has been fortunate to receive support from prominent MEPs over the years. SIOP Europe is urging returning and candidate MEPs to pledge their support to childhood cancer by supporting our Manifesto. So far, 22 MEPs, 90 organisations and 1000 individuals have endorsed this Manifesto. Moreover, you will see that our Manifesto has received significant media visibility – please refer to the section 'SIOPE NEWS ROUNDUP' within this newsletter. I invite all members of our community to continue spreading this message and contacting your MEPs to support this Manifesto.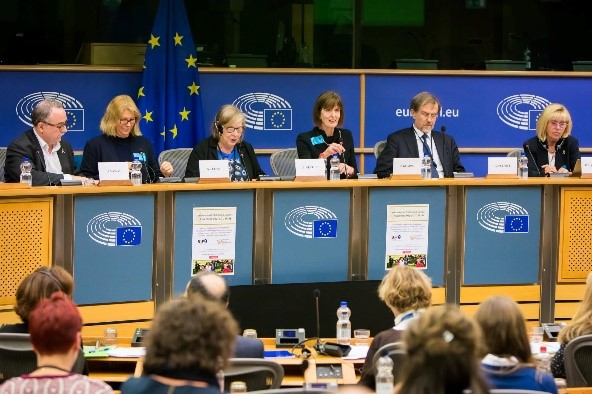 We recognise that the SIOP Europe Manifesto is ambitious, but we believe it should be possible to cure more children and young people and to cure them with less negative impact on their future health and well-being. We must work on delivering zero deaths and zero late effects. We owe our children a future where no child in Europe dies from cancer or suffers from late effects. Last but not least, I would like to thank SIOP International for the excellent support they have given to our 2019 European Elections Manifesto. We are part of a global community and are very grateful that everyone is united and supporting this initiative and campaign.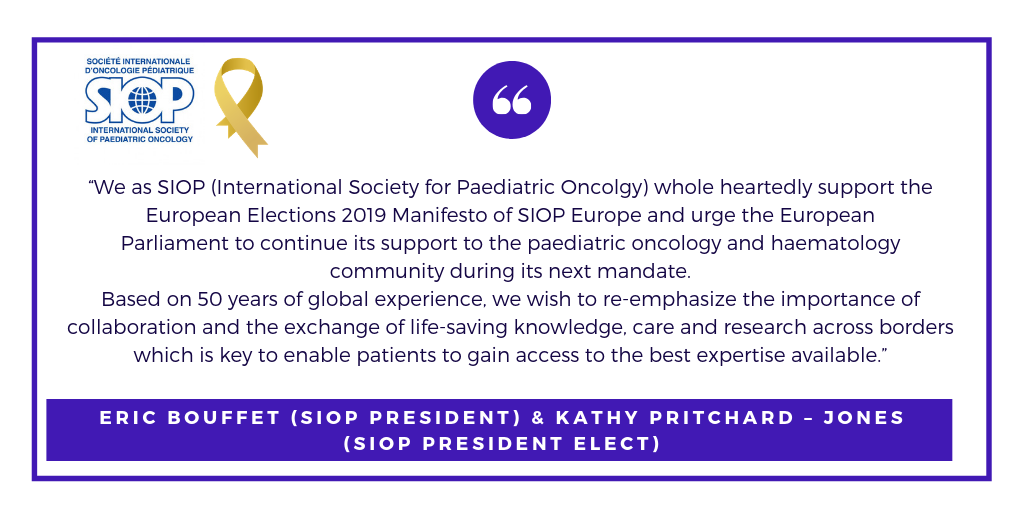 Linked to this, we also look forward to seeing our community at the SIOP 2019 Congress (23-26 October) in Lyon, France.
We will continue to promote the SIOP 2019 Congress and encourage our community to attend the leading paediatric oncology congress in Lyon later this year. I hope you enjoy reading this newsletter, which I believe contains interesting updates about our activities, events and projects.
Kind regards,
Pam Kearns
SIOP Europe President