SIOP Europe Publication in The Lancet Oncology
SIOP Europe is excited to announce the publication of its Comment in The Lancet Oncology on "The impact of the EU General Data Protection Regulation (GDPR) on childhood cancer research in Europe".
In 2021, three years after the entry into application of the GDPR, SIOP Europe surveyed its membership of clinicians and academics across Europe to gain an understanding of the legislation's impact on childhood cancer research and explore future avenues to facilitate research activities in order to cure more children and adolescents with cancer, cure them better and reduce inequalities.

SURVEY ON THE GDPR AND CHILDHOOD CANCER RESEARCH
While the GDPR provides a needed framework for adequate safeguards to personal health information, health data sharing – both within and beyond country borders – has proven to be essential for high-quality research in paediatric oncology – a field with a series of rare and ultra-rare diseases.
The SIOP Europe survey shows that the majority of respondents are aware of the GDPR and find the legislation valuable. More than 90% of the 128 respondents engage in activities where health and/or research data sharing is essential and, importantly, ¾ of the survey participants reported that data sharing has become more challenging since the GDPR's entry into application in 2018.
RECOMMENDATIONS FOR HEALTH DATA SHARING FOR RESEARCH
The survey findings led to a set of recommendations from the paediatric haemato-oncology professional community with the aim to enhance the current data-sharing environment: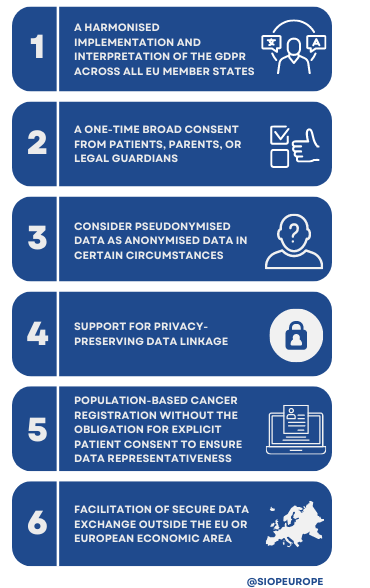 a harmonised implementation and interpretation of the GDPR across all EU member states and within institutions in the same country, including clarity on the definition of the legal basis for data sharing in academic research as public interest;

a one-time broad consent from patients, parents, or legal guardians, and the possibility of a second broad consent at the age of 18 to facilitate seamless data sharing and processing for secondary use of data and tissues;

consider pseudonymised data as anonymised data in certain circumstances;

support for privacy-preserving data linkage;

population-based cancer registration without the obligation for explicit patient consent to ensure data representativeness, with the possibility to share data internationally with appropriate safeguards;

facilitation of secure data exchange outside the EU or European Economic Area (EEA) for public health and academic research purposes.
FUTURE ORIENTATIONS
There is a strong call by the European childhood cancer community for harmonisation in the interpretation and implementation of the GDPR. Clear implementation guidelines for EU Member States could be conducive to a coordinated approach for conducting academic research as well as accessing and handling research-relevant data. Improving and simplifying the data-sharing environment is a prerequisite for high-quality scientific research, especially in a rare disease setting like paediatric cancer. The childhood cancer community in Europe is looking forward to continued engagement with relevant bodies and institutions towards the facilitation of research activities for the benefit of children and adolescents with cancer.