SIOP Europe celebrates wide support during Gold September: Childhood Cancer Awareness Month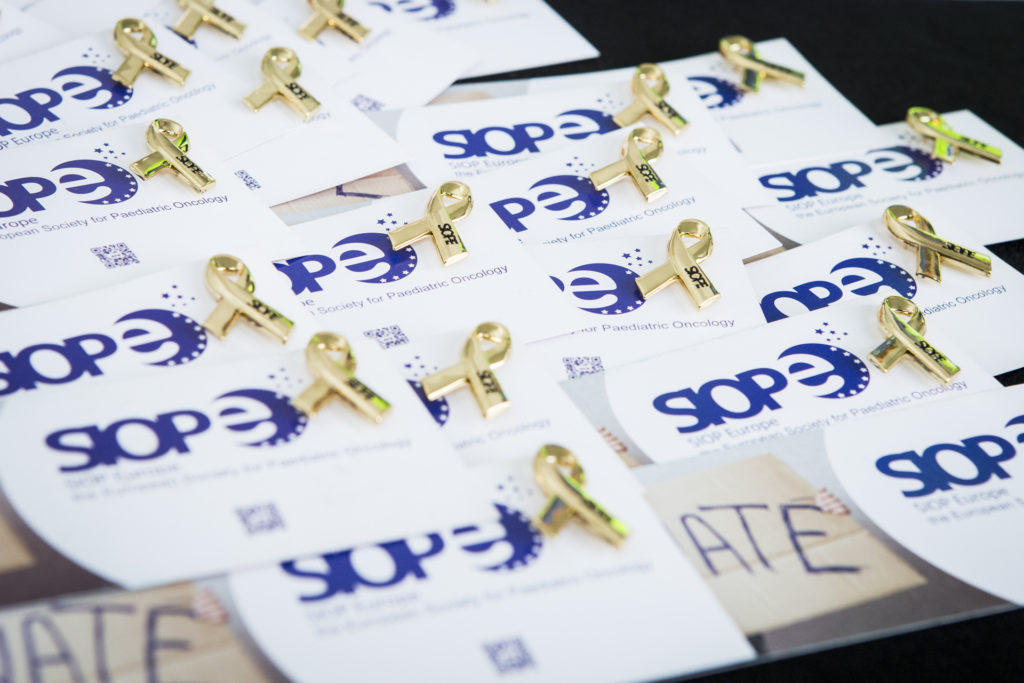 Paediatric cancer remains a major public health and societal issue in Europe. The Gold Ribbon is the universal symbol to create awareness about childhood cancer. Gold is a precious metal and since children are our most precious treasures, it is indeed a perfect symbol for the childhood cancer journey to survivorship.
Although SIOP Europe strives to raise awareness about childhood cancer all year round, September is a special time in our community as we increase our efforts and activities to support children and young people with cancer.
Members of the European Parliament (MEPs) endorsed Childhood Cancer Policy Priorities
We are delighted that 31 MEPs from 17 countries showed their support to the paediatric cancer cause, also by wearing the SIOP Europe Gold Ribbon pin and sharing their photo on Twitter (@SIOPEurope) using the hashtags #ChildhoodCancerAwarenessMonth #GoGold.
We invite other MEPs to support the Childhood Cancer Policy Priorities on our website and in recognition of this support, we will be happy to provide a Gold Ribbon pin.
Run for kids with cancer
The Fintro 'Dwars door Mechelen Run for kids with cancer' took place on Sunday 29 September in Mechelen, Belgium. The SIOPE Team was very pleased to run together with almost 50 participants from 10 countries to raise awareness about childhood cancer.
We would like to thank and congratulate all the runners for their amazing support during this Childhood Cancer Awareness Month activity. Click here to see pictures from this memorable day.
CCI Europe collects signatures through a petition to ensure adequate care for childhood cancer all over Europe
Sign the petition here to raise awareness about the needs of childhood cancer survivors and their right for adequate personalised follow-up care, regardless where they live in Europe. The collected signatures will be presented at the European Parliament in 2020 to emphasise the needs of childhood cancer survivors in Europe. Your voice matters!
Dedicated to the Childhood Cancer Awareness Month, the launch of two survivorship movies is the highlight of this campaign. Watch the movies here.
JARC (Joint Action on Rare Cancers)* Book is OUT!
The JARC Book is a product of 3-year collaborative project and contains 10 chapters for policy makers. Each chapter presents targeted policy recommendations on rare cancers, including a dedicated section on specific priorities in childhood cancers, which are all rare. The JARC Book is now available! To receive a copy of the JARC Book, please send an email to: office@siope.eu.
*The joint action "724161/JARC" has received funding from the European Union's Health Programme (2014-2020).
Pharmaceutical students supporting SIOP Europe and CCI Europe
EPSA – European Pharmaceutical Students' Association supported SIOP Europe and CCI Europe by organising a joint Public Health Campaign during the Childhood Cancer Awareness Month of September. EPSA shared SIOP Europe and CCI Europe key messages with 100 000 students across Europe in 37 countries, while students participated in several runs and engaged on social media.
Thank you all!
SIOP Europe expresses sincere gratitude to the entire community, committees, working groups, partners and sponsors in making this Gold September yet another success.