We are very pleased to announce that Professor Pamela Kearns has taken the Presidency of SIOP Europe for the years 2019-2021.
Pamela Kearns succeeds Professor Martin Schrappe, who has been President for the past three years and has served on the board since 2009. The official hand-over took place on 7 January 2019.
Professor Martin Schrappe and Professor Pamela Kearns during SIOP Europe's 20th Anniversary Event at the European Parliament on 25 September 2018 Samira Essiaf, SIOP Europe CEO: "We would like to extend our sincere appreciation to Martin Schrappe for his dedicated service, insights, and contribution and we are looking forward to working with Pam Kearns in her role as President of SIOP Europe".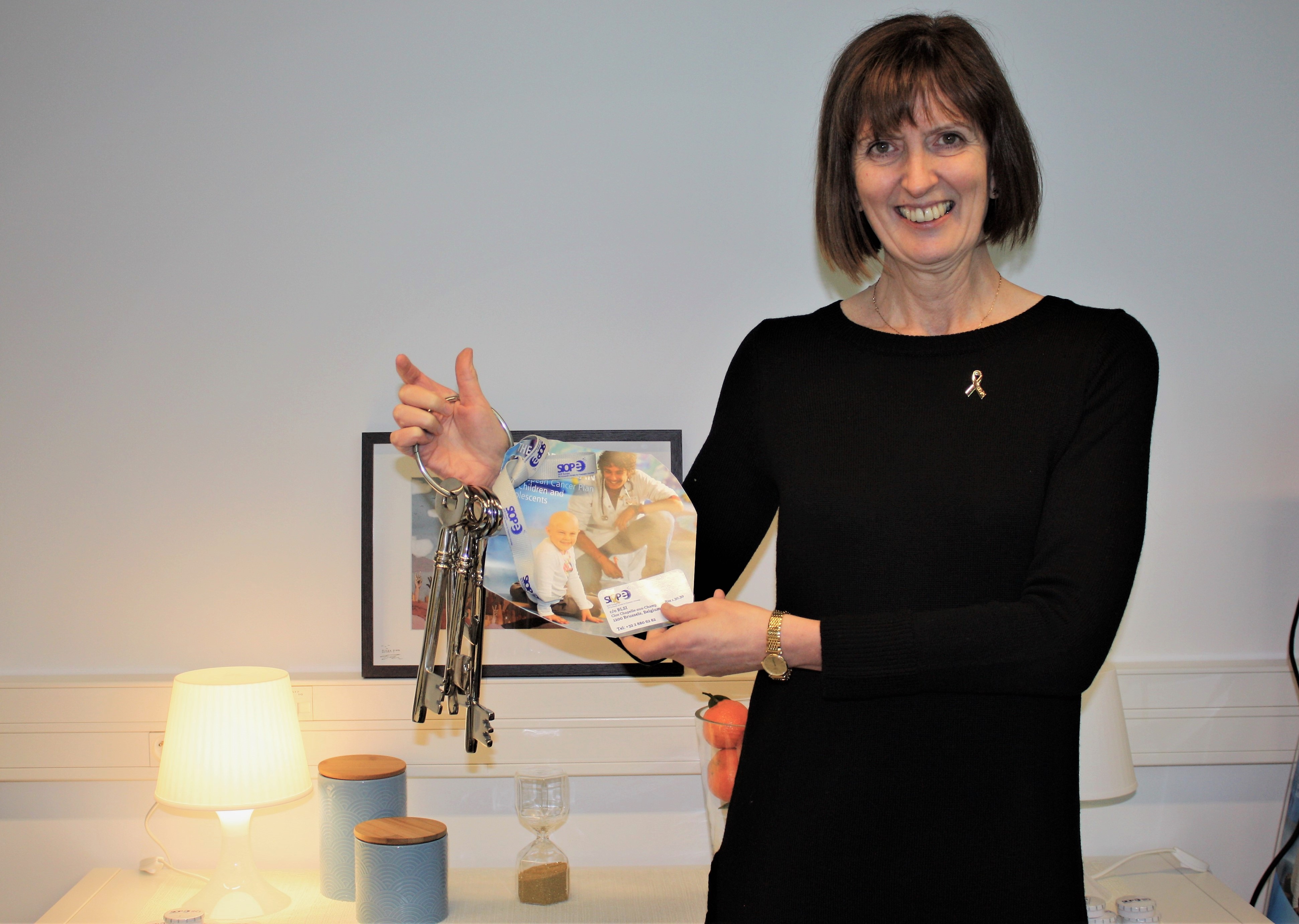 Professor Pam Kearns holding the "keys" to the SIOP Europe office Welcoming Professor Pamela Kearns to the Presidency: The SIOP Europe board has always been impressed by Pam's dedication to the young patients she serves and warmly welcome her as President of SIOP Europe.
We are fortunate to have someone of Pam's calibre and experience to lead SIOP Europe. Pam is a strong communicator with vision and leadership capabilities.
Furthermore, as a SIOP Europe board member for the past 6 years, she has a solid understanding of our organisation, mission and strategy. Pam is Professor of Clinical Paediatric Oncology at the Institute of Cancer and Genomic Sciences, University of Birmingham and Honorary Consultant in Paediatric Oncology at Birmingham Children's Hospital. She is also Director of the University of Birmingham's UKCRC registered, Cancer Research UK Clinical Trials Unit, delivering a wide-ranging programme of clinical trials across all types of cancer in all age groups, notably leading the National Children's Cancer Trials Team responsible the vast majority of UK's clinical trial portfolio for children and young people with cancer. In 2015, Pam was appointed as a Senior Clinical Advisor to Cancer Research UK.
For more information on the experience that Pam will bring to her new role, please see her full bio here.
Sincere thanks to Professor Martin Schrappe
The SIOP Europe board and staff would like to sincerely thank Martin Schrappe for his dedication and tireless efforts as President. SIOP Europe made tremendous strides under Martin's leadership. Amongst his significant accomplishment is navigating the organisation to explore and launch a key flagship event: the first SIOP Europe Annual Meeting, which will take place on 20-25 May 2019 in Prague, Czech Republic. Martin is passionate about the SIOP Europe Annual Meeting and will carry on championing the necessity of bringing together all these diverse stakeholders together once a year to exchange, learn from each other and network. We therefore look forward to building on this and more as we enter the next chapter. Martin was also instrumental in setting a new group dedicated to Young Oncologists: the Young SIOPE Group. Recognising the need to support the future of Europe's healthcare and future paediatric oncologists, SIOP Europe is extending membership to younger medical professionals with an invitation to join the upcoming Annual Meeting in Prague. Furthermore, SIOP Europe continued to grow under Martin's leadership and today boasts of 1850 members from 35 countries. We are very keen to engage the membership and to figure out their needs. To ensure that we are meeting our members' expectations and desires, we are currently carrying out a survey to serve everyone better.
The size of the SIOP Europe staff has also increased from 3 in year 2017 to 7 people today (includes one person working part-time). Martin Schrappe: "I would like to end on a special note of thanks and appreciation to fellow paediatric oncologists and haematologists, researchers, and all the various partners including policy-makers and especially parents, patients, survivors dedicated to a brighter future for children and adolescents with cancer. Moreover, I wish to thank also the Steering Committee, Board, CRC and especially the SIOP Europe staff for their support and dedication devoted to the children and young people we serve".
Announcing new board members:
Joining the SIOP Europe board are Tomasz Szczepański, Carmelo Rizzari and Andishe Attarbaschi. We are very pleased to welcome all three to the SIOP Europe board.
Tomasz Szczepański is an Independent Scientist at Medical University of Silesia in Katowice (Poland) and since 2009 the Head of the Department of Paediatric Haematology and Oncology in Zabrze. He is also full professor at Medical University of Silesia and serves as Vice-Rector for Scientific Affairs. He is a member of the Board of the Polish Paediatric Association and the President of the Polish Society of Paediatric Oncology and Haematology.
Carmelo Rizzari has been involved in the field of paediatric leukaemias with a special interest for both traditional and innovative chemotherapy agents. He is currently running the Paediatric Haematology-Oncology Unit in Monza (within the frame of the University of Milano-Bicocca, Italy), which is one of the largest centres for the diagnosis and treatment of haematological malignancies in Italy.
Andishe Attarbaschi dedicated 20-years career as a physician, scientist and 'teacher' to paediatric haemato-oncology, especially leukaemia and lymphoma. As Associate Professor of paediatrics/adolescent medicine, with specialisation in paediatric haemato-oncology at the Medical University of Vienna, he was devoted to the education and teaching of students, postgraduates, as well as young doctors. He is responsible for training both residents and students during their first clinical year at the St. Anna Children's Hospital in Vienna.
These new board members fill vacancies and replace board members who have served on the SIOP Europe's board for many years. Given the impressive track records and diverse backgrounds of our board members, we are confident of their leadership and impact. Pam Kearns: "SIOP Europe is founded on a strong ethos of collaboration and all of our Board members bring their individual expertise, talent and energy to the table. We feel fortunate to have their knowledge and leadership collectively striving for a brighter future for children and young people with cancer".
Founded in 1998, SIOP Europe is the only pan-European organisation representing all professionals working in the field of childhood cancers and is leading the way to ensure the best possible care and outcomes for all children and adolescents with cancer in Europe.