MEP Glenis Willmott 'Policy Maker of the Year 2015'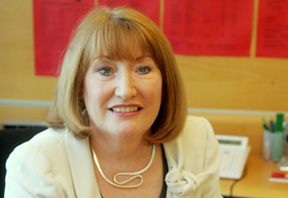 Right after having hosted our event at the European Parliament on 3
rd
February (see article), Member of the European Parliament Ms Glenis Willmott (S&D, Ireland) received the Policy Maker of the Year 2015 Award by the European Organisation for Rare Diseases (EURORDIS). SIOPE warmly congratulates MEP Willmott for all her strenuous efforts and support to the cause of childhood cancer – a rare disease – both in her work on the EU
Clinical Trials Regulation
and the EU's Health Programme. Over the last years Ms Willmott showed a lot of understanding to the SIOPE requests for modifications in the current EU legislative framework in order to foster better childhood cancer research and care, managing to reach a satisfactory deal with other EU policy-makers on the Clinical Trials Regulation. She also hosted the SIOPE yearly event to mark
International Childhood Cancer Day
at the European Parliament for 4 consecutive years. This long-standing collaboration with SIOPE began when she heard the moving story of Sam White (
see SIOPE newsletter #17
) and strongly committed to look at how changes to EU legislation could help other childhood cancer patients and survivors in his position.
'We need to facilitate cross-border trials with our European neighbours to find the solutions we urgently need for many rare diseases,'
said Ms Willmott at that time.
'For a child suffering from cancer a clinical trial can be their only hope of survival.'
More information
MEP Alojz Peterle Won the MEP Award for Health
For the third time, Member of the European Parliament (MEP) Alojz Peterle (NSi/EPP) has won an award for his work in the field of health. Chosen for his outstanding work among the 751 MEPs, Peterle said:
'Health remains one of the main challenges of the European Union and the first political priority in my view'.
MEP Peterle is an active supporter of cancer initiatives, and prominent long-term leader of the European Parliament interest group 'MEPs Against Cancer' (MAC). In the field of childhood cancer, he hosted the SIOPE ICCD annual event at the European Parliament (2011) and is signatory of our Manifesto for the paediatric oncology and haematology (2014). More information: