Between now and Thursday 15th December 2016, support our online campaign Let's Do #More4KidsCancer to act in favour of children and young adults with cancer.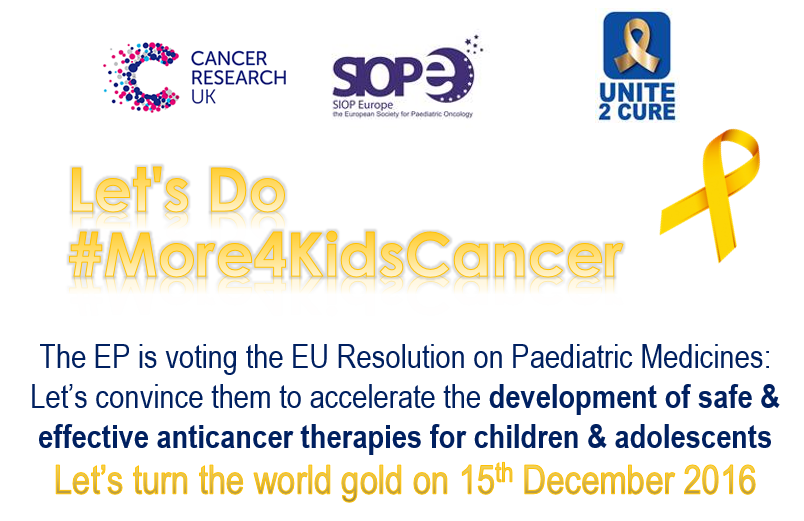 SIOPE, CRUK and Unite2Cure are calling for EU institutions and civil society to speed up the development of safe and effective anticancer therapies for children and adolescents, as the European Parliament is voting a Resolution about the EU Paediatric (Medicines) Regulation. In Europe, less than 1 in 10 children with a terminal cancer have access to potentially life-saving innovative medicines. Ten years later its approval, the EU Regulation did foster progress in paediatric drug development but remained insufficient for paediatric oncology. Too few drugs targeting childhood cancers are currently under development, despite cancer remaining the first cause of children's death by disease in Europe.
Support our cause by clicking here: it takes 5 seconds to join our campaign and it is very easy to do.
For our campaign, we are using the "Thunderclap" tool: it allows people to pledge a Tweet/Facebook message with our important message, and unleash them all at the same time on 15
th
December, thereby "flooding" the web. Think of it as a "Twitter flash mob". Since you are active on social media, we would like to ask you to add your support via Twitter or Facebook, by using #More4KidsCancer, or even posting something gold/a golden ribbon to show that you understand the fundamental importance to increase cure and quality of treatment for children with cancer. With your contribution, our voice will be stronger! Thank you very much,
SIOPE, CR UK and Unite2Cure