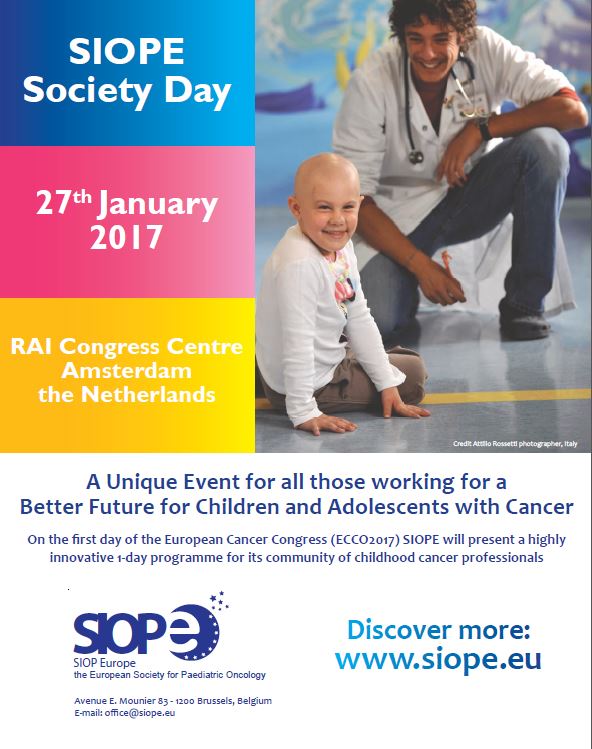 SIOPE Society Day
27th January 2017, RAI Congress Centre, Amsterdam, the Netherlands
Next year's
European Cancer Congress (ECCO2017)
will be different from all the previous editions of this not-to-be missed event. On its first day, our Society will hold its first one-day dedicated meeting presenting a highly innovative programme for its community of professionals working in the field of childhood cancers. The SIOPE Society Day (27 January 2017) will bring together experts from multidisciplinary tumour boards in Europe and national societies, who will share their crucial research results, latest innovations and lessons learnt in paediatric oncology. Building on the existing cooperation with the adult oncology world, our Society Day will illustrate the most effective approaches at the clinical and research levels. The second part of the Society Day will consist in a Policy Session, where the importance of exchange on EU health and research policies and future initiatives of the SIOPE community will be instrumental for the implementation of the SIOPE Strategic Plan
'A European Cancer Plan for Children and Adolescents'
.

Clinical symposia on the most frequent types of childhood cancers, translational approaches and  immunotherapy will also make part of the overall Scientific Programme of ECCO2017. This clinically-oriented Congress has been completely renewed: now taking place on an annual basis, it will focus even more on the necessary of multidisciplinarity in cancer care. The new structure of ECCO2017 will be composed of 4 pillars:
PILLAR 1 'Multidisciplinarity': ECCO2017 will put into a multidisciplinary perspective the new practice changing phase III trials (in any tumour type) that were presented in monodisciplinary conferences in 2016;
PILLAR 2 'Outcome Research': ECCO2017 will present and review real world data to observe how recent implementation of new treatments or diagnostic modalities fared in the clinic. Emphasis will be placed on population registries, molecular epidemiology, elderly patients and co-morbidity as well as external validity of clinical trials;
PILLAR 3 'Health Economics of Cancer Care': the cost effectiveness of the molecular characterisation of cancer, new cancer therapies and how to prioritise and integrate these advances will be discussed during this event;
PILLAR 4 'Organisation of Cancer Care Delivery': the different phases of the 'cancer patient journey' in the future will be one of the focuses of ECCO2017.
In summary, both the SIOPE Society Day and the overall content of the Congress make Amsterdam a not-to-be-missed meeting point for all professionals dedicated to ensure the best possible outcome to children and adolescents with cancer. To register to the SIOPE Society Day, please go to the
ECCO2017 website
and select
"Society Programme day only - No access to the main congress"
(€95 for the SIOPE Society Day on 27 January). You can still benefit from the Early Registration fee to attend the full ECCO2017 Congress if you register as SIOPE member by 27 June 2016 (only €399 ECCO2017 Early Fee + €95 for the SIOPE Society Day). Please find more information
here
. More information: