SIOPE attended an event to mark World Cancer Day (4
th
February) at the European Parliament in Strasbourg (France). This initiative was co-organised by Cancer Research UK and European Cancer League (ECL), and both SIOPE and the European CanCer Organisation (ECCO) were present as partner organisations to raise awareness on their activities.
Our Society was present with an exhibition stand and participated in an evening reception with Members of the European Parliament (MEPs) on 4
th
February 2016. On this occasion Gilles Vassal, Past President and Board Member of SIOPE, made a statement on the need to amend the current EU Paediatric Medicines Regulation (see article in this newsletter):
"Cancer remains the first cause of death by disease for children in Europe, and the majority of survivors experience serious late effects. It is imperative that policy makers and indeed all stakeholders cooperate to urgently solve these issues. One of the most pressing needs is to increase and accelerate paediatric cancer drug development. The childhood cancer community including parents, patients and survivors developed a common vision to address such key issues – the SIOPE European Cancer Plan for Children and Adolescents. We look forward to implementing it with all stakeholders to achieve a brighter future for children and adolescents with cancer."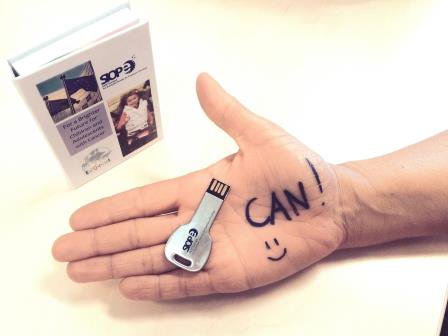 The whole event was well attended, especially by Members of the European Parliament: at least 15 MEPs and the Health Commissioner came to visit the SIOPE stand. All World Cancer Day partner organisations – Cancer Research UK, SIOPE, the Association of European Cancer Leagues (ECL) and ECCO – gladly welcomed the success of both the exhibition stands and the evening reception. This was an excellent opportunity to highlight the importance of keeping cancer high up on the policy agenda for beating cancer sooner.
Photos:
Health Commissioner Vytenis Andriukaitis speaks to Olga Kozhaeva from the SIOPE Office
SIOPE adhered to the campaign "

#

WeCanICan

Talking Hands to mark World Cancer Day"
More Information: