The rotating President of SIOPE has a leading role. He/she presides the meetings of the Board of Directors and officially represents SIOPE at international meetings. Together with the Board, he/she decides over the priorities and the strategy for the future.
Current President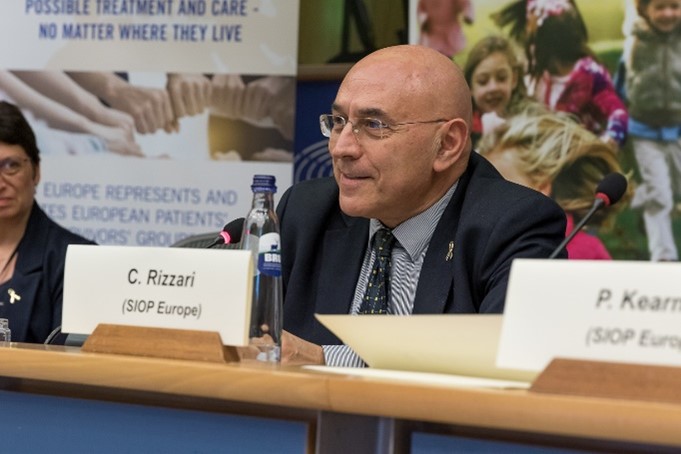 The current President is Carmelo Rizzari.

Carmelo Rizzari is Professor of Paediatrics and Head of the Paediatric Haematology-Oncology Unit at the Department of Pediatrics of the University of Milano-Bicocca, MBBM Foundation, ASST Monza, Italy. Prof. Rizzari's main research interests fall within the field of paediatric leukaemia's and cancer chemotherapy. He has participated in the development of a number of chemotherapy protocols for childhood acute lymphoblastic leukaemia (ALL) and acute myeloid leukaemia (AML). He is currently Chair of the ALL Scientific Committee within the Italian Association of Pediatric Hematology and Oncology (AIEOP) and is member of the steering committee of the ongoing international protocol, AIEOP-BFM ALL 2017, for first-line treatment of childhood ALL. He is also international co-Chair of the AIEOP-BFM ALL working group on asparaginase studies and previous Main Representative of the Clinical Research Council of SIOP Europe. Since 2016 Prof. Rizzari is the representative of the International BFM Study Group (I-BFM-SG) within the coordinating group of the European Network of Paediatric Research at the European Medicines Agency (Enpr-EMA), which aims to optimise and improve the use of drugs in childhood.
Past-Presidents
The SIOPE Staff and Board members would like to express genuine gratitude to our Past-Presidents:
Prof. Pamela Kearns (United Kingdom) from 2019 to 2021
Prof. Martin Schrappe (Germany) from 2016 to 2018
Prof. Gilles Vassal (France) from 2013 to 2015
Prof. Ruth Ladenstein (Austria) from 2010 to 2012
Prof. Kathy Pritchard Jones (United Kingdom) from 2008 to 2009
Prof. Andrea Biondi (Italy) from 2006 to 2007