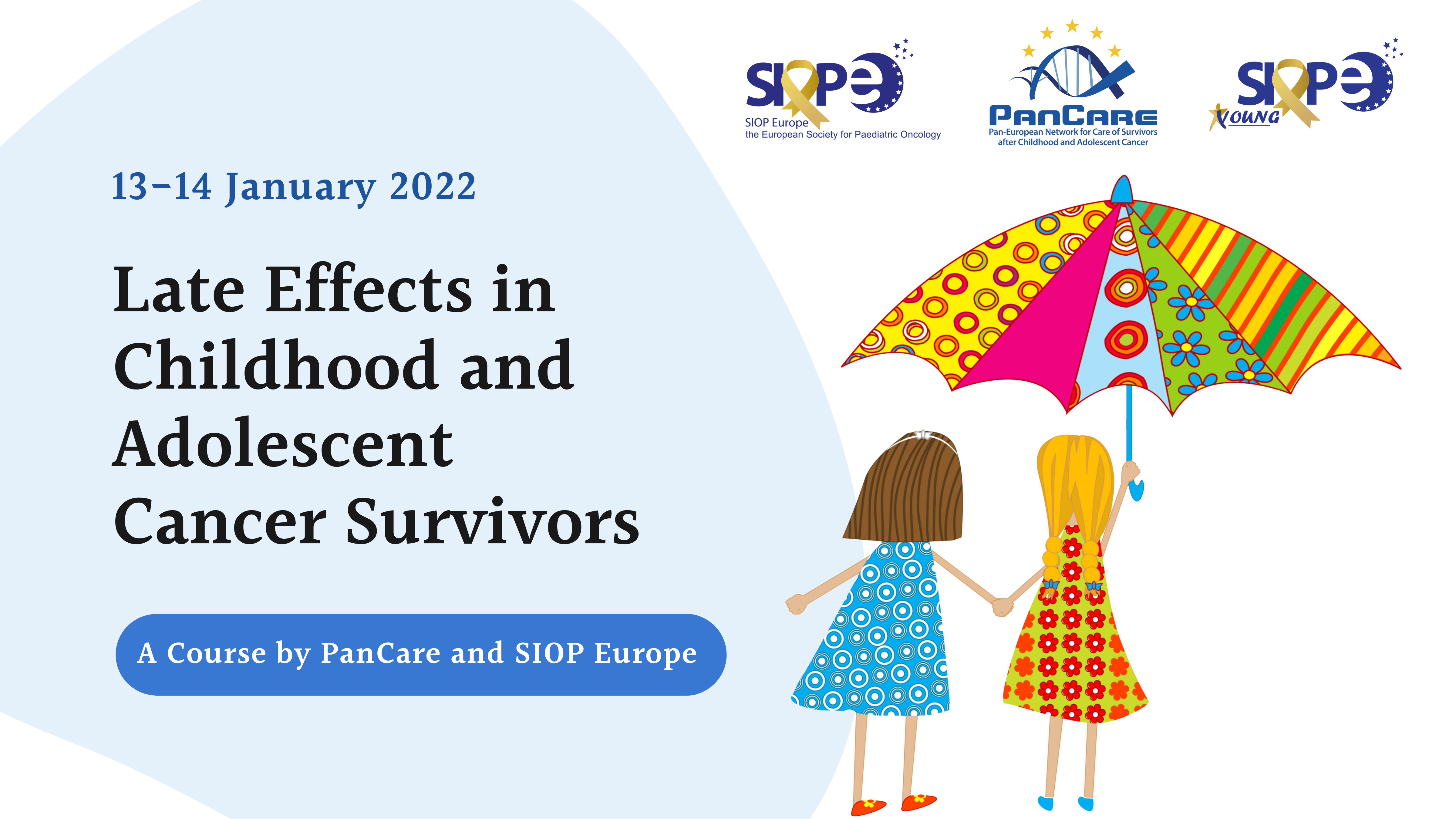 Late Effects in Childhood and Adolescent Cancer Survivors – A Course by PanCare and SIOP Europe
13-14 January 2022 (Virtual)

"Cure is not enough" - already in 1974 Giulio J. D'Angio had the vision of childhood and adolescent cancer survivors and their long-term follow-up care.
With around 80 % survival of childhood and adolescent cancer, around 500.000 survivors live in Europe today and the number is increasing. At least two thirds experience long-term health-related problems. What are their problems? What are the risk factors? How are these problems diagnosed and treated? Can they be prevented?
These questions were answered during the Course. Different perspectives from an inter- and multidisciplinary team of late effects specialists across Europe were demonstrated including the perspective from survivors themselves.


Recordings
The recordings of a selection of session are available here.
Accreditation
The Late Effects in Childhood and Adolescent Cancer Survivors - A Course by PanCare and SIOP Europe, Brussels (Virtual), Belgium, 13/01/2022-14/01/2022 has been accredited by the European Accreditation Council for Continuing Medical Education (EACCME®) with 12 European CME credits (ECMEC®s). Each medical specialist should claim only those hours of credit that he/she actually spent in the educational activity.
Course Steering Committee:
Katrin Scheinemann – Course Chair, PanCare Chair and Kantonsspital Aarau – Aarau, Switzerland
Maria Otth – Course Co-Chair, Young SIOPE Chair-Elect and University Children's Hospital Zurich – Zurich, Switzerland
Andishe Attarbaschi – SIOP Europe Board Member and St. Anna Children's Hospital - Vienna, Austria
Lars Hjorth – SIOP Europe and PanCare Board Member and Skane University Hospital – Lund, Sweden

If you have queries or require further information, please send an email to: edu@siope.eu