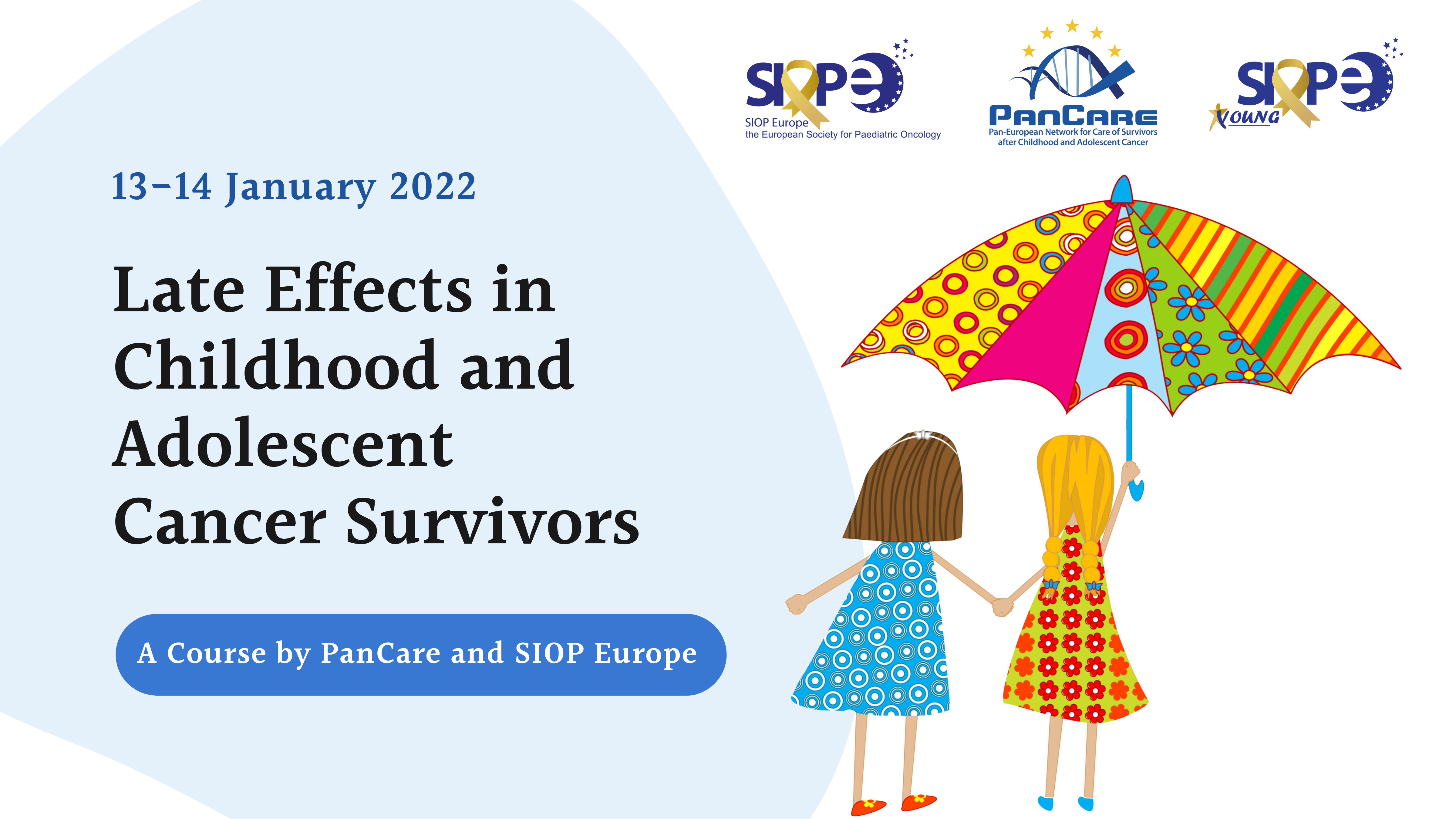 Late Effects in Childhood and Adolescent Cancer Survivors – A Course by PanCare and SIOP Europe
13-14 January 2022 (Virtual)

Applications are now closed!
"Cure is not enough" - already in 1974 Giulio J. D'Angio had the vision of childhood and adolescent cancer survivors and their long-term follow-up care.
With around 80 % survival of childhood and adolescent cancer, around 500.000 survivors live in Europe today and the number is increasing. At least two thirds experience long-term health-related problems. What are their problems? What are the risk factors? How are these problems diagnosed and treated? Can they be prevented?
All these questions will be answered during the Course. Different perspectives from an inter- and multidisciplinary team of late effects specialists across Europe will be demonstrated including the perspective from survivors themselves. Interactive case discussions and tools for the daily practice are part of the course as well.

Who should attend?
Fellows in paediatric haematology and oncology
Junior faculty at academic medical centres from across Europe

What makes this course unique?
You will learn about clinical aspects of childhood cancer survivorship, research collaborations and leadership.
You will discuss real-life cases, situations, and patient management.
You will obtain the skills and expertise to become a leading physician, performing high-quality patient management and research in the field of late effects.
Upon completion of the Course, you will receive a certificate of attendance and CME credits (to be confirmed).


Course Steering Committee:
Katrin Scheinemann – Course Chair, PanCare Chair and Kantonsspital Aarau – Aarau, Switzerland
Maria Otth – Course Co-Chair, Young SIOPE Chair-Elect and University Children's Hospital Zurich – Zurich, Switzerland
Andishe Attarbaschi – SIOP Europe Board Member and St. Anna Children's Hospital - Vienna, Austria
Lars Hjorth – SIOP Europe and PanCare Board Member and Skane University Hospital – Lund, Sweden

Online Application Procedure:
Applications to participate in the Course can only be submitted electronically.
Applicants must meet the minimum selection criteria outlined below:

Minimum Selection Criteria
Applicants must:
Be fluent in written and spoken English
Be a SIOP Europe or PanCare member (or willing to become one if selected)
Be working in paediatric oncology
Be a fellow in paediatric haematology and oncology or junior faculty at academic medical centres from across Europe
Be a maximum of 40 years old

The application form provided must be used and includes the following sections:
Personal details and contact information
Short CV
Short Motivation Statement
Participation Fee
In order to attend the Late Effects in Childhood and Adolescent Cancer Survivors – A Course by PanCare and SIOP Europe, all selected participants will be required to pay the Participation Fee of 75 EUR (excluding VAT) by 6 December 2021.
Application submission opens: 2 August 2021
Applications submission closes: 25 October 2021
Applications received after the deadline will not be accepted.
Please ensure your application is complete prior to submission. A confirmation of receipt of application will be sent immediately upon submission.
Applicants will be notified of the status of their application in November 2021.

Reimbursement policy
6 December 2021 - fee payment deadline. ​

If you cancel your participation before 6 December 2021, you will receive a full refund.

Cancellations received after 6 December 2021 are not eligible for refund.

If you have queries or require further information, please send an email to: edu@siope.eu