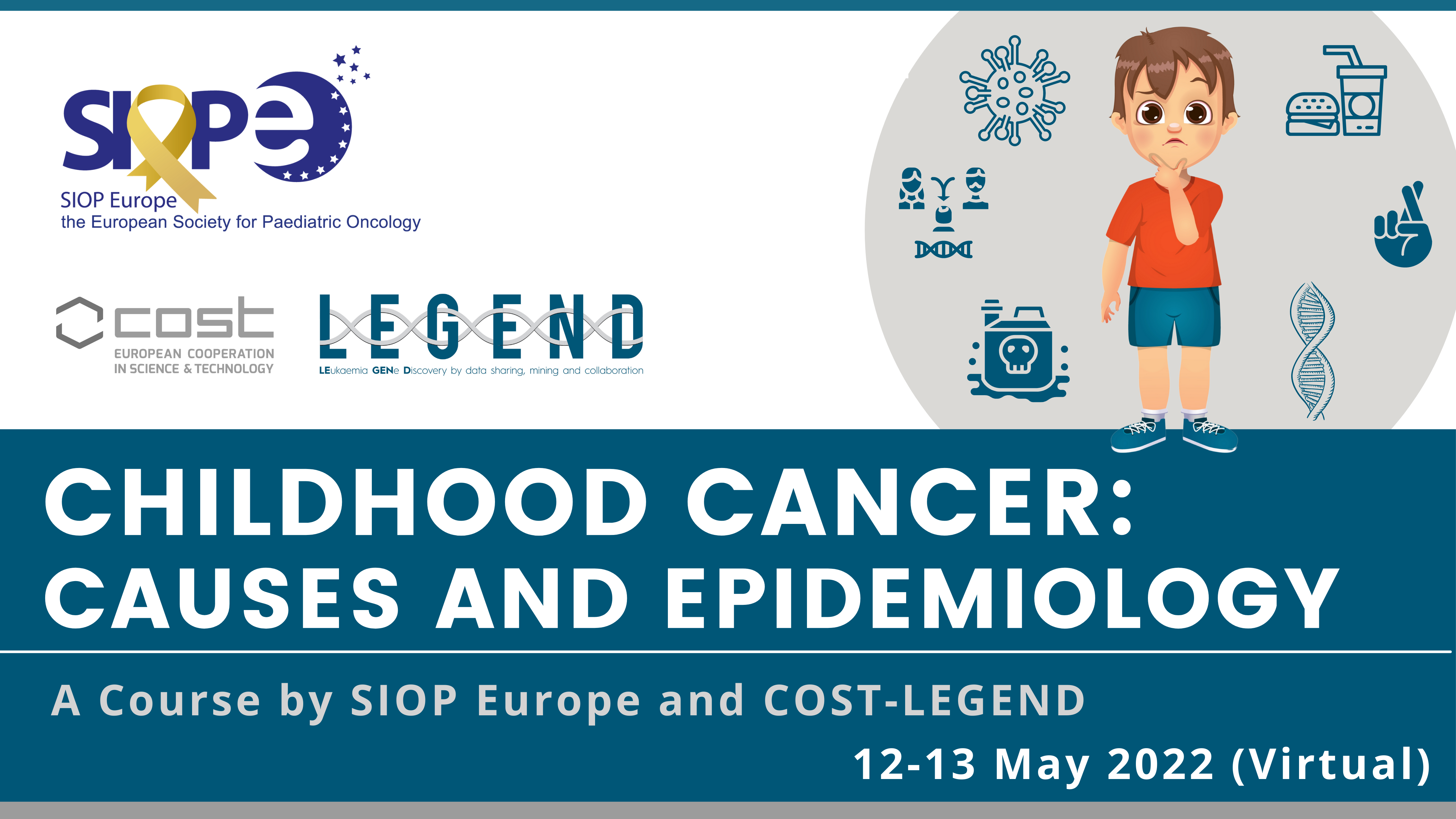 While cure rates of children and adolescents with cancer have dramatically improved over the last decades, the causes of childhood cancer remain poorly understood. Research in this area remains a major research priority. Cancer in children and adolescents has a strong genetic component and at least 10% of patients have an underlying cancer predisposition syndrome with broad clinical implications.
In patients without defined cancer prone syndromes heritable factors such as low-penetrant risk alleles play important roles. Environmental cancer risk factors, such as infections or exposure to genotoxic factors also contribute to the development of childhood cancer.
Studying cancer risk factors requires skills in the areas of cancer biology, cancer genetics, and cancer epidemiology. Experts from these areas will teach in this course.

The SIOPE Course on "Childhood Cancer: Causes and Epidemiology" covers topics including:
Predisposition to cancer
Pharmacogenetics and toxicity
Role of genetic tests and their relevance for the clinicians
Secondary leukemia
Germline findings in molecular pathology

What makes this course unique?
You will learn about causes of childhood cancer, research collaborations and leadership.
You will discuss real-life cases, situations, and patient management.
You will obtain the skills and expertise to become a leading physician, performing high-quality patient management and research in the field of cancer genetics and epidemiology.
Upon completion of the Course, you will receive a certificate of attendance and CME credits (to be confirmed).

Who should attend?
Fellows in paediatric haematology and oncology
Junior faculty at academic medical centres from across Europe
Course Steering Committee:
Christian Kratz – Course Chair, Chair and Professor of Paediatric Haematology and Oncology at Hannover Medical School – Hannover, Germany
Uğur Özbek – Course Co-Chair, Acıbadem University Medical Faculty, Medical Genetics Department – Istanbul, Turkey
Jelena Lazic - Pediatric Hematologist and oncologist, Department for hematology and oncology, University Children`s Hospital, School of Medicine, University of Belgrade, Belgrade, Serbia
Esmé Waanders - Chair of the COST action LEukemia GENe Discovery (LEGEND), Princess Máxima Center, Utrecht Netherlands
Andishe Attarbaschi – SIOP Europe Board Member and St. Anna Children's Hospital - Vienna, Austria

Online Application Procedure:
Applications to participate in the Course can only be submitted electronically.
Applicants must meet the minimum selection criteria outlined below:

Minimum Selection Criteria
Applicants must:
Be fluent in written and spoken English
Be a SIOP Europe or PanCare member (or willing to become one if selected)
Be working in paediatric oncology
Be a fellow in paediatric haematology and oncology or junior faculty at academic medical centres from across Europe
Be a maximum of 40 years old

The application form provided must be used and includes the following sections:
Personal details and contact information
Short CV
Short Motivation Statement


Applications submission closes: 7 February 2022
Participation Fee
In order to attend the Childhood Cancer: Causes and Epidemiology Course, all selected participants will be required to pay the Participation Fee of 75 EUR (excluding VAT) by 28 March 2022.
Applications received after the deadline will not be accepted.
Please ensure your application is complete prior to submission. A confirmation of receipt of application will be sent immediately upon submission.
Applicants will be notified of the status of their application in February 2022.
Reimbursement policy
28 March 2022 - fee payment deadline. ​

If you cancel your participation before 28 March 2022, you will receive a full refund.

Cancellations received after 28 March 2022 are not eligible for refund.

If you have queries or require further information, please send an email to: edu@siope.eu